Local women's art work is on display at the Statehouse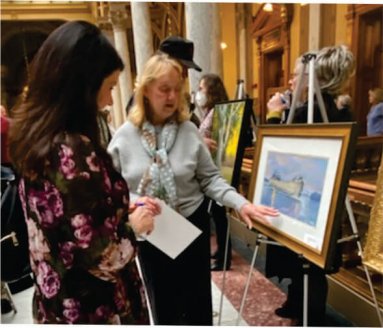 SUBMITTED PHOTO
A local woman's artistic ability is on showcase after she was chosen as one of the 2022 Hoosier Women Artists with her work featured at the Indiana Statehouse in the office of Lt. Gov. Crouch. Virginia Kramer's painting "Morning Docking" of the USS LST 325 ship was chosen among 200 entries for this prestigious exhibit.

The painting of the ship titled, "Morning Docking" was done in soft pasetls. The scene is of the ship docking at the Aurora landing when it came up the river for an event in Aurora.

Kramer, who resides in Greendale, paints and draws mainly in pastels. She is a plein air artist, but also enjoys painting animals and architecture. She is a member of the Indiana Plein Air Painters Association (IPAPA) and has served as president. She is also on the Dillsboro Friendship Art Gallery board. She has artwork displayed in galleries and in collections.

Also honored is Cindy Crofoot of Dillsboro, for her "Speakman House: The Grand Lady. Speakman House was built in 1846 and is also known as the "Grand Lady. This piece of history was listed on Indiana Landmarks Top 10 Most Endangered Landmarks in 2017. Homeowners Mark and Guinevere Banschbach restored the "grandscale farmhouse" in 2019. The Banschbachs commissioned the painting as a 175th anniversary tribute.

The 2022 Hoosier Women Artists Exhibition consists of 44 pieces of artwork created by women artists throughout Indiana. All of the pieces will be in selected offices in the Indiana State House throughout the year.