Locals advance to track and field regional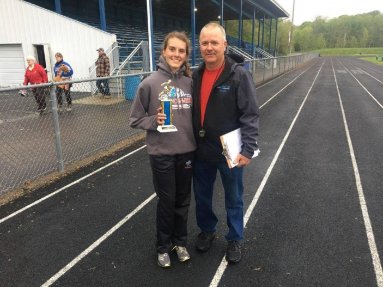 PHOTO COURTESY OF JCD SPORTS
Batesville placed among the top three in the field and several locals punched their ticket to next week's regional as part of the IHSAA Girls Track and Field Sectional on Tuesday night at East Central.

The Lady Bulldogs were runner-up of the sectional, finishing with 115 points while host East Central won the sectional title with 160 points. Greensburg's 84 points, Lawrenceburg's 49.50 points and Franklin County's 49 points rounded out the top five. Sectional team results outside the top five were as follows: Jac-Cen-Del, sixth, 36 points; South Dearborn, seventh, 35.50 points; South Ripley, eighth, 27 points; Oldenburg Academy, ninth, 20 points; South Decatur, 10th, 14.50 points; Rising Sun, 11th, 14 points; North Decatur, 12th, 13.50 points; Milan, 13th, 6 points.

Among coverage area teams, two schools produced sectional champions on the evening. Batesville's Kylie Raver, Ava Hanson, Katie Olsen and Megan Allgeier won the 3200 relay in a time of 9:58.59 and Jac-Cen-Del's Cloey Simon won the 300 hurdles in a time of 47.37 seconds. Those five will head to the regional as one of the top favorites to advance to the state finals.

Regional qualifiers are guaranteed first, second and third place finishers with a slew of fourth place finishers in individual and relay events that qualify for the next round of the postseason. Some fourth place finishes can later qualify once all sectional results are reported to the state.

Batesville's Lily Pinckly was a runner-up in the 1600 run in 5:34.27 and runner-up in the 3200 run in 12:16.17. Olsen was runner-up in the 400 dash in 1:03.32, Madelyn Pohlman finished second in the 200 dash in 27.80 seconds and Katherine Bedel jumped second in the pole vault at 8 feet. The 1600 relay team of Raver, Hanson, Carley Pride and Olsen was second at 4:17.94.

Other Batesville regional qualifiers were: Allgeier, third, 1600 run, 5:41.31; Pohlman, Lily Meyer, Elizabeth Nobbe and Elena Kuisel, third, 400 relay, 52.84; Pride, 400 dash, third, 1:06.02; Raver, third, 800 run, 2:29.22.

Oldenburg Academy had two top three finishes as Kate Walke qualified for the regional with a second place finish in the 100 hurdles at 15.66 seconds and Elizabeth Gigrich finished third in the 100 dash in 13.69 seconds. South Ripley's Emily Flood was a regional qualifier in the 100 hurdles at 15.99 seconds and teammate Lanie Nicholson was third in the 3200 run in 12:33.81.

Cloey Simon, Kayla Simon, Emma Newhart and Megan Weber gave Jac-Cen-Del a fourth place 1600 relay team in 4:34.70 while Kayla Simon was runner-up in the 300 hurdles in 49.03 seconds. Milan's best finish was Sophia Thomas in the high jump. Thomas finished fifth with a jump of four feet and eight inches.
The regional will take place on Tuesday at Franklin Community High School. The first event is scheduled for 5:30 p.m.