Locals complete indoor season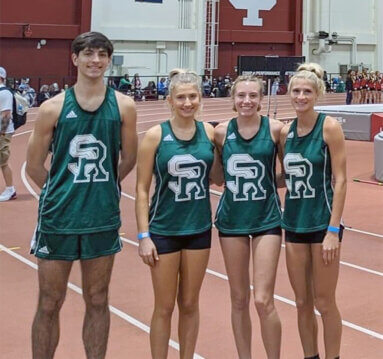 SR Track and Field
Batesville and South Ripley finished out the indoor portion of the high school track and field season with a run at the Hoosier State Relays Indoor Championship in Bloomington.

The two schools participated in the small school portion of the indoor state meet at Gladstein Fieldhouse on the Indiana University campus. Local participants in the event qualified after various regional meets hosted by Hoosier State Relays that were held throughout the entire state.

Representatives from 45 schools made up the boys division with South Ripley scoring two points in the event and Batesville walking out with one point. Indianapolis Bishop Chatard won the indoor state championship with 84 points while runner-up Guerin Catholic had 48 points. Delta, Churubusco and Park Tudor rounded out the top five. Austin had the best area finish, coming in 12th with 13 points.

On the girls side, South Ripley and Batesville each scored two points among over 40 teams in competition. Park Tudor won the girls crown with 70 points and Chatard was second at 61 points. Heritage Christian, West Lafayette and Guerin Catholic rounded out the top five team finishers. Lawrenceburg's girls team was seventh with 24 points and Franklin County placed 12th at 16 points.

Batesville's girls team had four different relay squads in action, led by the 3200 and 1600 teams that were each in the Top 10. The 3200 crew of Kaylie Raver, Kaylynn Bedel, Ava Hanson and Megan Allgeier placed eighth in a time of 10:04.03 while the 1600 group of Addison Luers, Ava Hanson, Sophie Myers and Kamryn Dozier was ninth at 4:19.40. Emma Weiler, Luers, Raver and Allgeier finished 13th in 13:45.72 while the 800 team of Lizzy Nobbe, Elena Kuisel, Madelyn Pohlman and Katie Lipps placed 23rd in 1:57.18.

Hanson was a 12th place finisher in the girls high jump with a leap of 4'11." On the boys side, Deacon Hamilton was 15th in the 60 hurdles preliminary race at 9.16 seconds and Ayden Eckstein used a jump of six feet to place eighth in the high jump. The Bulldog boys had one relay team in action as the 1600 relay team of Gage Pohlman, Noah Davis, Deev Ranka and Blake Hornberger ran 11th in 3:39.65.

South Ripley was represented in individual events with Emily Flood and William Tunny each recording top finishes for the green and white. Flood, a senior, finished seventh in the prelims of the 60 hurdles then placed seventh again in the final race, doing so in a time of 9.56 seconds. Tunny, another senior, hit six feet in the boys high jump for a seventh place spot.

Sophomore Alexa Yeomans was 17th in the 60 hurdle prelims in a time of 9.96 seconds. Senior Shelby Bastin ran 22nd in the 3200 run at 13:11.42.