Locals run at Great Pumpkin invite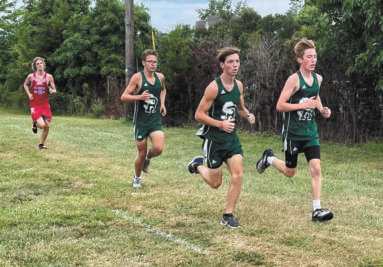 PHOTO COURTESY OF SR CROSS COUNTRY
An annual Pumpkin Show week event saw several coverage area runners record personal-best times as South Ripley played host to the Great Pumpkin Invitational at the Ohio Rod Course on Benham Road.

South Ripley, Jac-Cen-Del and Milan all ran in the event that also welcomed several other area schools. Austin saw its boys and girls teams both claim Great Pumpkin titles but not before the locals turned in some of their best performances of the cross country season.

Milan finished runner-up on the boys side, scoring 33 points while Austin won with 25 points. South Ripley placed third with 101 points. Rising Sun was fourth place with 110 points and Jac-Cen-Del rounded out the top five with 148 points. Southwestern (Hanover), South Decatur and North Decatur also turned in team scores while teams that did not field complete squads were Hauser, Shawe Memorial and South Dearborn.

Three runners each finished in times of under 17 minutes but out of the pack first was Milan's Ben Riehle who was the individual winner in a time of 16:35.60. The time was four seconds better than runner-up Brandon Rice of Austin who was at 16:39.70 and third place finisher Jackson Marshall, also of the Eagles, ran in 16:59.50.

Gabe Riehle posted a top five finish for Milan and was fourth overall in 17:03.70 while Ayden Potts was sixth in 17:12.30. Lucas Cooney ran 11th in 18:18.20, Nathan Voss was four spots behind in 15th at 18:43.40 and Ethan Dehamer was the final runner across for the Indians in 21st at 19:15.60.

South Ripley packed together its top three runners and tooks spots 17 through 19 in the race. Sophomore Luke Bradley was 17th in 18:52, classmate Bradley Leach was 18th in 18:59.30 and senior Hayden Hooten was 19th in 19:00. Joseph Davis ran 27th in a time of 19:39.80, Evan Eaglin placed 32nd in 19:59.70 and Jordan Davis came across at 22:44.40.

Freshman Marshall Johnson was back on top for Jac-Cen-Del in Thursday's race, placing 23rd overall in a time of 19:25.30 and sophomore Jacob Ricke was 25th in 19:32.90. Dylan Ricke finished 34th in 20:09.30, Cameron Reatherford was 38th in 20:22.90 and Gabriel Maloney was 47th in 21:38.10. The Eagles were rounded out by Seth Dornbach in 22:09 and Payton Amberger in 23:28.60.

On the girls side of the race, Austin won with 38 points and Southwestern finished runner-up at 58 points. Rising Sun's 96 points went for third place while Madison and South Ripley rounded out the top five with 112 points and 153 points respectively. Jac-Cen-Del placed 10th at 217 points and Milan was unable to field a complete team.

Shelby Bastin earned another top five finish and the South Ripley senior was fourth overall in a time of 20:22. Milan's Elly Potts was ninth overall in 21:34.20. Shawe senior Calli Alderman won the race in 19:36.20.

South Ripley got a 19th place finish from sophomore Virginia Minch in 23:36.40 and Elizabeth McKittrick was 26th in 24:37.10. Mady Tingle ran in 31:14.90, Journey Jines in 33:59.40 and Kaitlyn Tingle in 35:39.50. Milan finishers included Sarah Lillis who ran 51st overall in 29:02, Cheyenne Burns at 54th in 30:23.40 and Emma Jutsi in 66th at 39:02.70.

Jac-Cen-Del freshman Allene Peters was 34th overall in a time of 25:24.10 and Allison Peetz was 43rd in 26:47.40. Aliyah Karshner was 57th at 30:42.40 and a pair of sophomores in Seena Peetz and Savannah Steele gave the Lady Eagles times of 32:32.90 and 32:33.90 respectively.

The coverage area runs this week in two separate events as Batesville hosts local teams in the Batesville Invitational today and the Ohio River Valley Conference Championship will be run on Saturday.