Locals run at L-Burg 5K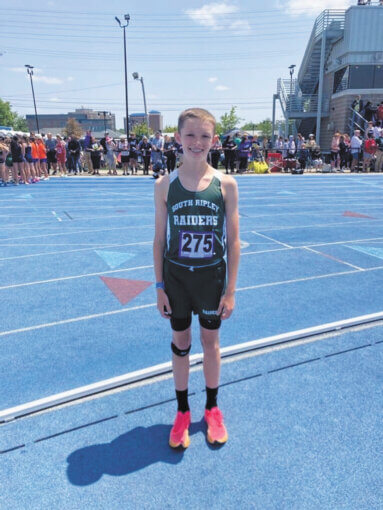 PHOTO COURTESY OF SR TRACK
Perfect weather conditions on Saturday morning gave way to a big turnout featuring several coverage area participants at the Lauren's Burg Hill 5K Race in Lawrenceburg.
The event is in honor of the late Lauren Hill, a former Lawrenceburg High School girls basketball player who passed away after a courageous battle with brain cancer. Her fight and pursuits on the collegiate basketball floor were well-covered by national media outlets.

South Ripley runner Mason Bascom finished second overall in the 5K run with a finishing time of 18:40. He was runner-up to winner Larremy Gray of Cincinnati in a time of 18:28. Batesville's Ronnie McAllister was fourth at 22:31, giving the coverage area two inside the Top 10 while Milan's Kristen Honeycutt was 15th overall at 27:34. Jamma Kelly of Dillsboro ran 43rd out of 80 total runners, crossing the finish line at 34:10.

In the walk portion of the event, Osgood's Gina Bascom and Megan Bascom finished back-to-back at 29th and 30th in equal times of 55:57. Saturday also saw a special 5-mile race held with four coverage area participants running the race. 2021 South Ripley graduate Lanie Nicholson was the top female and ran fourth overall in 34:11 while Dillsboro's Tyler Creek was 10th at 38:45. Jim Bruns of Batesville was 23rd in 44:25 and Jim Drew, also of Batesville, was 44th at 50:58. The five miles was run by a total of 59 runners.

Two big races are on tap for this weekend. The 4th Annual Main Street Versailles 5K is Saturday at 8 a.m. while the Southeastern Indiana Racing Circuit Series begins with the Rushville Lions Pride 5K that same day at 8:30 a.m.