Locals shine at Early Bird Invite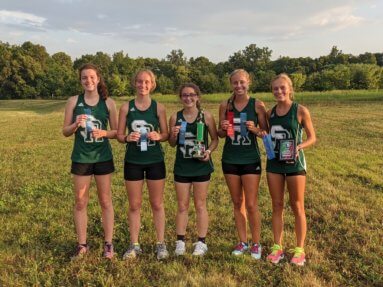 PHOTO COURTESY OF SOUTH RIPLEY CROSS COUNTRY
Although only one coverage area school fielded a full team, that didn't stop South Ripley, Milan and Oldenburg Academy from putting runners in the top tier of the results on Tuesday night as part of the Early Bird Invitational at the Blue River Cross Country Course in Shelbyville.

The invitational served as the season opening meet for all three local schools. Jac-Cen-Del is the only coverage area school who has yet to run this fall.

With the invitational separated into two divisions, South Ripley's veteran girls squad squeaked out a narrow win en route to the small school division championship. The Lady Raiders scored 31 points, besting Waldron by a single point while South Decatur scored 62 points to finish in third place. Franklin Central, Greenfield Central, Greenwood and Rushville made up the race's other division while several other schools competed but did not field full teams.

South Ripley's Lanie Nicholson and Emily Campbell ran 1-2 in the small school division with Nicholson winning the individual title in a time of 21:00. Campbell, a fellow senior, was runner-up in a time of 23:42 and two other Lady Raider runners found themselves in the top 15. Deborah Murphy ran seventh in a time of 26:00 and Kara Young finished 12th in 28:13 while Elizabeth McKittrick rounded out the roster in 33:08.

Nicholson's time was the best in both divisions, making her the overall winner in the meet on Monday.

Milan had a lone runner in the girls meet as Sarah Lillis finished 15th in the small school division in a time of 29:09.

All three participating coverage area boys teams failed to field complete teams but that didn't stop Milan sophomores Ben Riehle and Ayden Potts from shining on an individual level. Riehle was the overall winner in the small school division in 18:11 while Potts earned runner-up honors in a time of 19:52. Two other Indian runners also competed in the meet and finished in the upper half of the field.

Ethan Dehamer ran 14th in 22:30 and Nathan Voss finished 16th in 22:38 in his high school debut.

South Ripley also had four runners compete in the meet. Freshman Luke Bradley started his high school campaign strong with an eighth place finish in 21:02 and Logan Bradley was right behind in 10th at 21:36. Evan Eaglin and Ryan Gorrell rounded out the roster in times of 23:16 and 23:25 respectively.

Oldenburg had a lone runner in the boys meet as junior Carter Walsman finished seventh in a time of 20:45.

Milan ran on Wednesday at Lawrenceburg in a four-way meet that also included Rising Sun and Taylor (Ohio) while Oldenburg runs at Richmond on Saturday. South Ripley is off until August 26 when they run against South Decatur, Jac-Cen-Del and Milan in Westport.