Long life hunter focuses on teaching the trade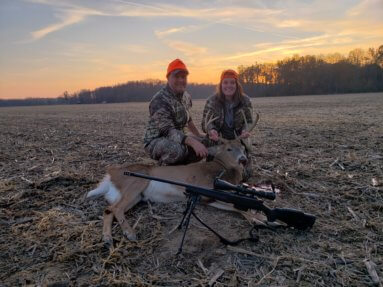 SUBMITTED PHOTOS
Local hunter Kendall Hankins hasn't tagged a buck in a few years – even though he hunted every day of rifle season in 2020. He has his eyes on a buck he's been watching grow for the last few years, but he's not prioritizing getting one himself this year either. His focus this year is mentoring a new hunter, who he helped get his first turkey last spring.

"My goal is not necessarily for me, it's to guide him," said Hankins of the 13-year-old he and his wife are mentoring. "He's super appreciative and I can't get over how well-mannered a kid he is."

Hankins grew up in the woods with his parents, Jim and Bev Hankins, who both hunt. His wife, Jenna, has become another one of his hunting partners in their years together. She got an eight-point buck early last week.

Hankins says their first priority when they are out on the hunt is safety. Second is ethics. They want to ensure they use their tools properly and protect the environment they hunt in so that they – and other hunters – can continue to enjoy it for years to come.

"Some people don't respect other people's hunting rights or privileges and it upsets me when that happens to me, so I try not to do anything to someone else I wouldn't want done to me," Hankins said of sharing hunting grounds with other hunters.

Hunting is a way to get away from the stress and pressures of daily life – no matter what season it is. Hankins feels it is one way to "absolutely disconnect" from everything that is going on in the world.

He pointed out how many young people today have not had the opportunity to know the world without the internet and smartphones, and he thinks the world outside of the electronic devices we use on a regular basis is a beautiful one.

"There's a time and place for (cell phones), but to be able to set that down and see what I think God made for us to enjoy – there's no better thing. No better way to relax and unwind."
A lot of preparation often takes place leading up to those days hunters spend in the woods.

"It's not just going out in the woods for a couple of days during the year to sit there and chill," said Hankins. "It takes you a year to get here with preparation. Talent and luck play a part in it, but the preparation helps you to be successful."

Hankins said he's explained to the teen he's teaching: "If you kill a deer that's small, it's never going to grow. So you don't need to go for the first thing you see. Let it grow, give it a couple of years."
Hankins is following his own advice now, hoping he has the chance to get the buck he's been watching grow for the last few seasons.

Hankins is serving his first term as a county commissioner. He works for the Southeastern Indiana REMC and teaches at Ivy Tech. He also helps lead hunter education classes in Friendship.
As Hankins helps this local youth learn the tools and the trade, he only asks the young man to do one thing in return: pay it forward.