Lots of choices for July 4th
festivities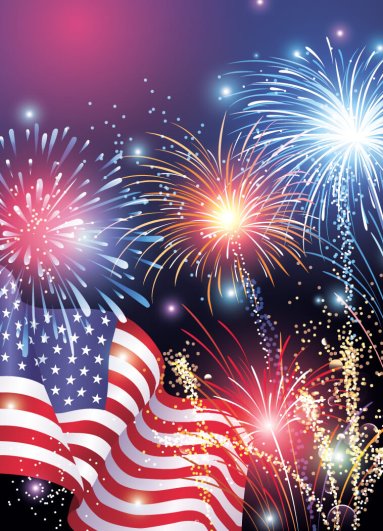 There is plenty to do in Ripley County over the weekend to celebrate the Fourth of July. Organizations and individuals have been busy putting together some events with something for everyone.
Thursday, June 30 will kick off Independence Day celebrations with the Indianapolis Symphony Orchestra performing complete with fireworks at the Gillespie Soccer Plex. The event is free and will start at 6:00 p.m. with the performance beginning at 8:00 p.m., followed by fireworks.

On Friday, July 1 the Ripley County Chamber of Commerce will be hosting their 21st Annual Chamber Fireworks Night at the Ripley County Fairgrounds Park in Osgood. The event is a free family night of fun, food, entertainment and fireworks.

The Hog Rock Event Center, Osgood Lions Club, Kona Ice, B&G Dairy Bar & Grill, Little Alien Bakery, Mitchell's Kettle Corn and Lil Dutch Mini Donuts will be on hand to satisfy your hunger needs! Among the booths will be Chozen Designs with patriotic apparel and New Creations Crafts selling tumblers. Southeastern Indiana REMC will be set up to educate local residents on the new fiber being installed along with Necco bringing awareness to foster care.
Sponsors of the event are Franklin County Farmers Mutual Insurance and Caring Hands Insurance Services.
Centerline Band will start at 7 p.m. and fireworks will follow at dusk.

On Saturday, July 2, Wheelock Lake Campground will be having a bounce house, slip n'slide, and horseshoes all day long. Their famous buffet will be free to all veterans. They will have a golf cart parade and decorating contest at 2:30 p.m. and cornhole tournament at 4:30 p.m. The day will end with a bonfire and fireworks. For more information about activities at the campground located just outside of Versailles, call 812-274-5423 or office@campwheelock.com. Also on Saturday evening, The Versailles State Park will be the setting for fireworks. The lake area will be the backdrop with the fireworks being set off at dusk. There is no admission to the park during that time.
Sunday, July 3, The First Baptist Church of Milan will have their Annual Ice Cream Social from 4-7 p.m. Ice cream can be pre-ordered and pick up from 2-7 p.m. by calling or texting 812-621-3162.

On July 4 there's more fun! The Reading of the Declaration of Independence will be held at Osgood (on the Brick Street) at 11 a.m. A patriotic decorating contest that includes bike, wagons, tricycles etc, sponsored by the Osgood Beautification Committee will be held at 10:00 a.m. This is for children ages 5-12.

The popular Milan Lions Club Fourth of July Parade will be held on Monday, July 4 at 10:00 a.m. Those wanting to participate in the parade should be at the Milan School Parking Lot that morning to get registered. There is no charge.

The Grand Marshal for this year's parade is Noel Houze, who recently retired from the Milan Community Schools as their resource officer. During his eight years at the school, he worked tirelessly to secure grants and funding to update school safety equipment to make things safer for the children.

Houze is a retired Indiana State Trooper where he proposed a bill to State Representative Cleo Duncan, that has now become the "Move Over Law". This was passed into law April 19, 1999. Now 48 other states also have that law that has undoubtedly saved many lives. This was enacted after a trooper from the Versailles Post – Andrew Winzenread, was killed on I-74 after a semi got too close as the trooper was assisting a motorist who had run out of gas.

"Noel serves his community by being a member of the Milan Methodist Church, Murat Shrine, Lawrenceburg Masonic Lodge, Scottish Rite, Southeastern Indiana Shrine Club and is on the board for the Milan '54 Museum. He also served one term on the Milan Town Board where he and his co-members worked to improve the town," wrote the person who nominated him for Grand Marshal.

The Milan Volunteer Fire Department will top off your day at Milan with a Chicken Dinner from 11 a.m. – 2 p.m. (or until the chicken runs out!). Dine in or carry out. Come, enjoy the great chicken and support the local fire department.