Main Street Versailles holds Versailles 5K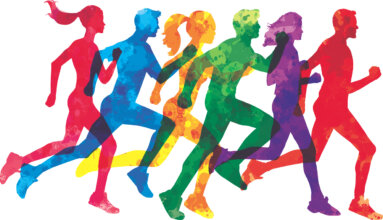 Runners and walkers of all ages flocked to the town square on Saturday morning as Main Street Versailles hosted its 3rd Annual Main Street Versailles 5K as part of an entire day dedicated to supporting local businesses and organizations.

The walk/run event kickstarted a Saturday on the square that was followed by the town's weekly Farmer's Market and the Versailles Lions Club Pork Chop Dinner. While not all officially competed in the 5K, over 75 runners and walkers took to the course that circled throughout much of town.

As far as competition goes, Milan High School junior Ayden Potts got off to a strong start on the square and cruised to the 5K run title inside a field that featured several local high school cross country runners. Potts won the race by over three minutes and came across the finish line in an impressive time of 18:42. The remaining top five finishers all were team members at South Ripley. Bradley Leach was runner-up in 21:56 and Blaine Ward was third overall in 22:08. Joseph Davis was fourth at 22:26 and Lady Raider Shelby Bastin was fifth in a time of 22:28.

Bastin finished as the top overall female runner while Cassie Heile of Holland was the second female across the finish line and seventh overall in 22:48. Madison's Louise Harpole and Whiteland's Pamela Wolff were eight and ninth in times of 22:52 and 22:53 respectively. Elly Potts was fifth among female finishers and the Milan 14-year-old was 11th overall in 23:24.

The overall top 10 also saw Brian Potts in sixth at 22:42 and South Ripley's Evan Eaglin in 10th at 23:05.
Age group winners for the 5K run were the following: Men- Under 14, Isaac Heile, Holland, 24:44; 14-18, Ayden Potts, Dillsboro, 18:42; 30-39, Casey Davis, Denmark, Wisc., 34:18; 40-49, Brian Potts, Dillsboro, 22:42; 50-59, Andy Hummel, Moores Hill, 24:53; 60 and Up, Stephen Graham, Madison, 25:25. Women – Under 14, Evelyn Kelly, Holton, 24:12; 14-18, Shelby Bastin, Versailles, 22:28; 19-29, Elie Heile, Holland, 32:33; 30-39, Casey Heile, Holland, 22:48; 40-49, Louise Harpole, Madison, 22:52; 50-59, Jennifer Miller, 34:59; 60 and Up, Carol Schwanholt, Milan, 31:35.
Six participants competed in the walk portion of the 5K that was won by Osgood's Ginger Peters in a time of 38:32. Steve Mathes of Versailles was runner-up in 39:52 and Tricia Johnson of Osgood was third at 42:40. Alyssa Young of Versailles was fourth in 42:43, Paul Dicken of Madison was fifth in 42:51 and Lynnette Young of Versailles was sixth in 43:16.

Another pair of big races is set for the area in the coming days. The Madison Regatta will host the Madison Firecracker 10K on July 2 while Greendale holds its annual 4th of July 5K next week.