Man, dog, killed in fire near Versailles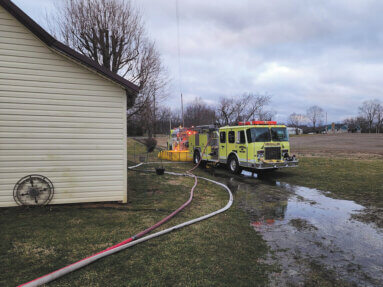 SUBMITTED PHOTO
Versailles volunteer firefighters responded to the call no firefighter ever wants to respond to last Friday, February 17, where they would find the remains of a man and his dog in the fire.

According to information from Versailles Fire Chief Ben Sieverding, the department was dispatched to 1748 West County Road 300 South at 7:15 a.m.

Chief Sieverding said they responded to the scene with two engines and a tanker and arrived at 7:27 a.m. When firefighters arrived, they found a camper with a covered porch fully engulfed in fire. The flames were quickly spreading to a barn and endangering the residence on the property as well.

Firefighters were able to extinguish the fire with eight minutes from arrival, which prevented damage to the nearby residence. They also stopped the spread of the fire into the barn, which did receive minor fire damage. Versailles Fire arrived at the fire with 5200 gallons of water and did not need further water to quench the fire.

New Marion Volunteer Fire Department was dispatched via automatic mutual aid and the Osgood Volunteer Fire Department was requested for a tanker by Versailles Command while enroute. New Marion was disregarded before arrival and Osgood returned to the station upon arrival.

The name of the victim has not been officially released at this time according to Chief Sieverding, who also noted that the Indiana State Fire Marshal's Office is investigating the fire.

The property is owned by Marlyn Percifield of Florida.