Man gets 24-year sentence for drugs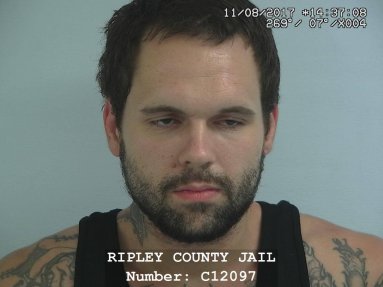 A Butlerville man was sentenced last week to 24 years in prison, with 12 years suspended, for Dealing in Methamphetamine.
 Clarence Howard III, 30, was handed down that sentence last week in Ripley County Superior Court, after he pled guilty to coming to Holton with drugs, almost four years ago. When Holton Town Marshal Ron Buchanan ran the plates on the Pontiac Grand AM Howard was riding in, the plates came back as not belonging to that particular car. The female driver said she had a valid driver's license, but didn't have it with her.
The Probable Cause Affidavit, which dates back to November 2017, noted that Marshal Buchanan made a traffic stop on US 50 on a vehicle Howard was a passenger in. Court records note that Howard got out of the car and starting laying several items on top of the car. As Marshal Buchanan approached the side of the car, he could see items in plain view that contained drug paraphernalia and/or drugs.
Later, the substance that was taken as evidence, field tested positive for Heroin. Howard admitted the bag with Heroin in it did belong to him.
Howard had several charges against him including: Dealing in Cocaine or Narcotic Drug, Dealing in Methamphetamine, Conspiracy to Deal in Cocaine or Narcotic Drug, Possession or Control of a Hypodermic Needle, Possession of Methamphetamine,, Possession of Cocaine/Narcotic Drug, Maintaining a Common Nuisance and Possession of Paraphernalia.
Upon release from the Indiana Department of Corrections, Howard was instructed to schedule an appointment within five days with the Community Mental Health Center, Counseling Center Associates, or other treatment provider as requested by the probation department.  Any evidence seized in the case will be released to law enforcement.
 After his time in prison, Howard will be released to reporting probation. Any suspended sentence can be revoked to jail if he violates any term of the probation terms.
Editor's Note: This sentence is for a crime committed a while back, but, Howard did serve some time in another county's jail. Also, COVID-19 could have impacted the sentence in Ripley County.