Mathes recognized at meeting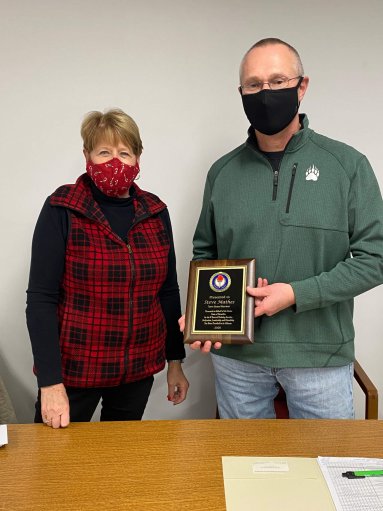 WANDA ENGLISH BURNETT PHOTO
Steve Mathes attended his last Versailles Council meeting in official capacity last week. His decision to step down after nine years was met with regret from the town, but Mike Daugherty put his name on the ballot and he will be replacing Mathes come January. A plaque was presented to Mathes from Roxanne Meyer, town council president. It read in part: "Presented on behalf of the entire town of Versailles for the 9 years of untiring service, dedication, leadership and friendship you have provided to its citizens." Mathes thanked everyone saying, "You've been a great group to work with, employees who do a good job…I've enjoyed it."

Greg Gardner with Gardner Ins. Co. was present at the November meeting. He gave a lengthy presentation about the renewal for property and liability insurance for the town. He noted that the town has been with their company for a long time and hasn't had a loss in recent years. He said what has driven the cost of the premium up is the additional coverage needed for the wastewater treatment plant. "Our goal is to have it insured correctly," he told the council. The premium increase would go up 6.8 percent. "It's nothing you've done to make it higher," he assured the council members.
Council decided to take the Gardner Insurance quote under consideration saying they had one more quote to go over and would get back with them.

The never-ending problem of junk cars and unkempt properties was brought up with the marshal and attorney being on the same page. They have begun a program, boosted by a new ordinance that was advertised, and will be enforcing the ordinance with warnings and fines.

In other business the Council unanimously approved keeping Jim Waldo on the planning commission to represent the town, approved a salary ordinance where employees who do not take health insurance would be paid a stipend, and approved gift cards for employees for Christmas.

The Benham Road project was discussed with Attorney Lynn Fledderman noting many of the easements haven't been secured, but they will work on getting them.

Meyer thanked the town for all the Christmas decorations that have been put in place, saying she has had several compliments on the town. She also noted a donation of a Santa and snowman complemented the Christmas tree by the town hall.

The Council was pleased with their recent Community Crossing grant to do work on Tyson Street. This will include paving and new sidewalks.

Maintenance Supervisor Kevin Hensley gave his report to the town showing his department has been busy. From their usual testing, daily reports and activities, they have winterized the Sports Complex and Pangburn Park.