McEvoy takes the driver's seat at Kentucky Speedway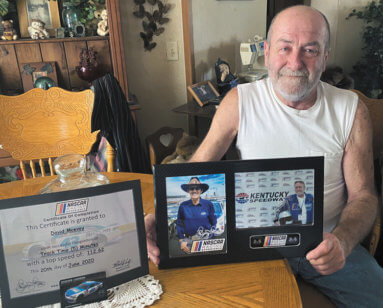 Submitted Photo
"I'm definitely going back. Definitely." David McEvoy of Holton said of his recent experience at the Kentucky Speedway that put him squarely in the driver's seat.
The experience was a birthday gift to him from his daughter, Lindsey, and her husband, Chris Krause. "The hardest part was waiting for the speedway to be open so I could go," he told the Osgood Journal since his birthday was in November.
But on June 20 David realized a dream of a lifetime as he suited up, put on the helmet, and into a real NASCAR car. "It was already 90 degreed that day, and about 80 degreed hotter inside that car," he laughed as he remembered the heat.
Five minutes of track time with a top speed of 112.62 mph was a thrill David will never forget. "I could have gone faster, but they kept slowing me down," he lamented. "But now that I know the process, I'm going back, and I know what to do," he said.
"It was the best experience of my life," he said, then quickly added, "well, with the exception of meeting and marrying my wife." His wife, Phyllis, passed away five years ago, leaving him with a hole in his heart. "She was everything," he said, adding they had been together 37 years.
David, who has worked in construction and been a heavy equipment operator for 34 years of his life, has had to slow down in the last few years. He doesn't talk about it much, but he's had a vein replaced in his leg that still bothers him, and has had a lung removed. He's used to getting right back at life when he's faced with adversity.
He brings that same attitude to the track. "I'm going back and I'm going to beat my speed, "he declared.
He's a true-blue American guy who loves to work hard, play hard, and yes, race hard! David said he watches all the NASCAR races and is somewhat disappointed that there will not be fans in the stands this year. But, there's always next year for the stands to be full at the Kentucky Speedway that boasts a 1.5-mile tri-oval speedway in Sparta, KY. This track has hosted ARCA, NASCAR and Indy Racing League racing annual since its inception in 2000.
You can have a NASCAR racing experience by going to www.nascarracingexperience.com. There you will find out that you can get one-on-one instruction from a spotter over a 2-way in-car radio as you fly or drive around the track.