Milan Aquatics kick off summer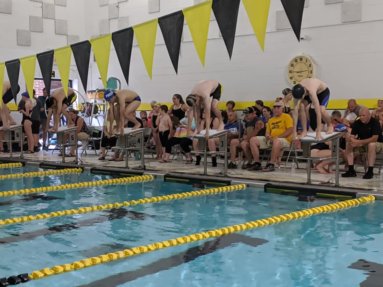 Submitted Photo
Although the swim year in the world of sports has wrapped up for the 2020-2021 school year, summer swimming is now in full swing as the Milan Aquatics program has already competed in two events in recent weeks. 
The program is an amateur organization and is made up of 50 student-athletes from Milan and the surrounding community. The team is headed up by Steve Stock with assistant coaches for the summer being Tori Haessig and Adam Volz. 
Milan Aquatics kicked off the 2021 campaign on May 27 with a dual meet against the Decatur County Tiger Sharks. Team scores for the event were not available but Milan did report that several top individual finishes were had at the meet. 
Individual winners for Milan against Decatur County were:  Adam Volz, Emily Volz, Cooper Mutz, Julie Knueven, Caiden Felver, Taylor Stock, Tristan Biltz, Laney Stock, Elizabeth McKittrick, Allie Jo Buchanan, Loki Smith, Ella Seymour, Ariel Haessig, Parley Hartwell, Jordan Huebner and Molly Knecht. 
Milan relay winners included:  Jordynn McIntosh, Molly DeWire, Claire Burton, Emily McKittrick, Kayleigh McIntosh, Margo Keller, Hailey Pippin, Cody Biltz and Jillianne Herd. 
The Aquatics followed up their first meet with a home win over the Switzerland County YMCA Sharks on June 2. Milan made it a clean sweep over Switzerland County, totaling a combined 741-398 score in the meet. The boys won 309-239 while Milan's girls picked up a 432-159 victory. 
Milan individual winners were:  Ariel Haessig, Emily Volz, Cooper Mutz, Allie Jo Buchanan, Cody Biltz, Taylor Stock, Alaina Stock, Elizabeth McKittrick, Abby Moore, Loki Smith, JJ Mutz, Dylan Thomas, Parley Hartwell, Caiden Felver, Jordyn Huebner, Hailey Pippin, Claire Burton and Molly Knecht.
Relay winners were:  Drew Poole, Jordyn McIntosh, Emily McKittrick, Kayleigh McIntosh, Ella Seymour, Ashlyn DeWire, Landon Saylor, Brady Begley, Jillianne Herd, Tom Poole, Hunter Wickizer, Maggie Hudepohl, Ellana Jutzi. 
Milan was slated to compete on Wednesday against Batesville at the Batesville Memorial Pool.