Milan Aquatics seeks to help every swimmer improve skills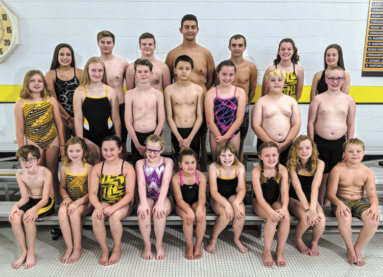 Submitted Photo
Kate Stock reports that the Milan Aquatics Summer Swim Team has had a busy summer so far. "Our focus since we started practice in late April has been to teach proper stroke technique, build strength, and to have fun!"
Stock says that the club strives to provide every swimmer with the oppurtunity to improve their skills and acheive success at their own ability level.
The club is currently competing in the Southeastern Indiana Swimming Association League (SEISA), which brings together other local clubs for competition. The Milan team will also compete in USA meets through July. For select swimmers that qualified, the season will continue into August, where swimmers will race at the Indiana Divisional Championship and Age Group State Meet.
The Milan Aquatics Swim club competes year round. Stock invites interested swimmers to visit the team's website at www.teamunify.com/inmilan. Follow the group on Facebook and Twitter, and email milanaquatics@gmail.com with questions.