Milan boys, Bastin win again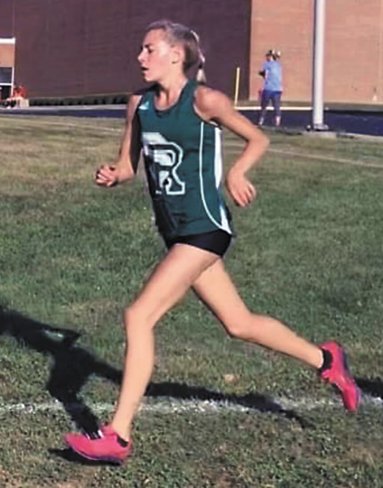 PHOTO COURTESY OF SR CROSS COUNTRY
In what seemed like a repeat of last Thursday night at the South Decatur Invitational, both Milan's boys cross country team and South Ripley senior Shelby Bastin raced to victories inside a four-way meet on Tuesday afternoon at Lawrenceburg.

The race featured both the Indians and the Raiders while host Lawrenceburg and Rising Sun also competed. All four teams fielded complete teams in the boys race although just South Ripley and the Lady Shiners competed as a full squad in girls action.

Milan's boys team took the first three spots in the top five and scored 30 points for the win while Rising Sun was runner-up with 49 points. South Ripley and Lawrenceburg tied for the third place spot with 66 points apiece. Junior Ben Riehle paced the Indians and was the overall top finisher in a time of 18:52 while freshman Gabe Riehle was second in 18:52.70 and classmate Lucas Cooney was third in a time of 19:01.40.
Nathan Voss posted his second-straight top 10 finish and was eighth overall in 20:50.50 and the Indians were rounded out by Ethan Dehamer in 16th at 21:53. South Ripley packed three runners together for places 10 through 12. Luke Bradley was the team's best finish in 10th at 21:15.70, Joseph Davis was 11th at 21:15.80 and Hayden Hooten placed 12th in 21:17.10.

South Ripley's Bradley Leach ran 15th in 21:44.20 and Evan Eaglin ran 18th out of 29 total runners in a time of 22:20.60. The Raiders final two runners to come across the finish line were Ryan Gorrell in 22:33 and Jordan Davis in 27:01.

Although Rising Sun defeated South Ripley 23-32 in the girls race, Bastin spent another meet starring for the Lady Raiders and finished first in a time of 23:13.50. The senior bested newfound rival Elly Potts of Milan as the Lady Indian freshman placed second overall in 23:43.80.
J
ust two other runners competed with Potts for Milan. Junior Sarah Lillis ran 11th in 36:29.80 and freshman Cheyenee Burns was 13th in 42:14.20. South Ripley sophomore Virginia Minch placed fifth in a time of 27:26.20 and classmate Elizabeth McKittrick was 10th in 30:16.10. A newcomer for the green and white in Journey Jines was 12th in 41:35.40 and Mady Tinkle ran 14th in 44:29.80. Kaitlyn Tingle and Makayla Howell, who was also running her first race, rounded out the field and the Lady Raiders with 15th and 16th place finishes in times of 44:54.50 and 46:00.20 respectively.

Both South Ripley and Milan run with Jac-Cen-Del and Batesville tonight in the annual Ripley County Championship Meet. The Bulldogs are the reigning champions in both the boys and girls races.