Milan boys capture ORVC track title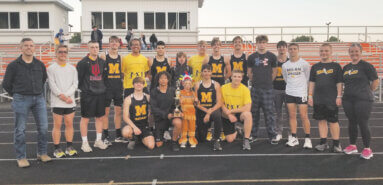 PHOTO COURTESY OF MILAN ATHLETICS
Milan's boys made it a clean sweep of regular season championships on Tuesday night, winning the Ohio River Valley Conference Boys Track and Field Championship at Switzerland County.

The Indians are now winners of both the Ripley County and ORVC titles this season, the first time in program history that Milan has hoisted both trophies in the same year. Milan's only championship loss in the regular season was at the South Dearborn Invitational, finishing behind Lawrenceburg and the host school for a third place finish.
Milan's boys won by nearly 100 points on Tuesday night, earning 171 points for the victory. Southwestern (Hanover) was second with 85.5 points, Switzerland County placed third at 66 points and South Ripley was fourth with 63 points. Rising Sun (41), Jac-Cen-Del (27.5) and Shawe Memorial (10) rounded out the standings.

10 event wins highlighted Milan's night, three of which resulted in a sweep of all relay events. The 400 squad of Brady Werner, Austin Green, Mason Green and Jonny Volk won in a time of 45.35 seconds and the 1600 relay team of Gabe Riehle, Ethan Dehamer, Ayden Potts and Ben Riehle was a decisive winner in 3:36.23. Dehamer, Lucas Cooney, Alex Wenger and Gabe Riehle won the 3200 relay in a time of 8:58.71.

Ayden Potts and Ben Riehle were both triple-event winners in individual events. Potts won the 800 run in 2:05.72 and followed it up with first place ribbons in the 1600 run at 4:47.48 and the 3200 run at 10:46.07. Riehle was a conference champion in the 100 dash at a speed of 11.58 seconds and then took the 200 dash and 400 dash in times of 23.26 seconds and 50.44 seconds respectively. Mason Green was the final winner for the Indians, taking top honors in the 300 hurdles at 43.02 seconds.

The following were second and third place finishers for the Milan boys: Second Place – Werner, long jump, 18'9.75;" A. Green, high jump, 6'1;" Volk, 100 dash, 11.69; G. Riehle, 1600, 4:47.48; Cooney, 3200, 10:49.87. Third Place – A. Green, long jump, 18'4.75;" G. Riehle, 800, 1:06.26; Volk, 200 dash, 23.86.

South Ripley's boys had one conference champion as did Jac-Cen-Del. William Tunny represented the Raiders and was the high jump winner with a leap of six feet and one inch. Jac-Cen-Del's Corbin White won the conference crown in the shot put with a throw of 41 feet and nine inches. The two schools then combined for eight top five finishes.

Tunny was runner-up in a very close 110 hurdle race, finishing in a time of 16.54 seconds and Carson Fisk was second in the 800 run at 2:07.24. Jacob Ivey gave the Raiders another second place spot, this time in the 400 dash at 53.97 seconds. Fisk, Kristian Demaree, Ivey and Joseph Davis were third in the 1600 relay in 3:45.98 and the South Ripley 3200 relay squad of Fisk, Jordan Davis, Luke Bradley and Hayden Hooten placed third at 9:07.32.

White followed up the shot put with a second place finish in the discus at 121 feet and one inch. Jac-Cen-Del's Sam Simon was third in the discus at 104 feet and one inch and Zachary Yeary placed fifth in the high jump with a spot of five feet and two inches.

Switzerland County defended its home turf on the girls side and was the ORVC champion with 159 points, outlasting conference rival South Ripley who finished second with 129 points. Rising Sun was a distant third at 67 points, Southwestern was fourth with 50 points and Milan placed fifth at 30 points. Jac-Cen-Del's 11 points and Shawe's 10 points finished out the scoring.

South Ripley senior Emily Flood won four individual events the final regular season meet of her career. Flood won the 100 hurdles in a time of 16.58 seconds and followed it with a time of 13.39 seconds in the 100 dash. Her final two wins were the 200 dash in 27.75 seconds and the high jump at four feet and 10 inches. Alexa Yeomans provided a victory in the 300 hurdles in 52.74 and another senior in Shelby Bastin won the 1600 run in 5:53.25.

Second and third place finishers for the Lady Raiders were: Second Place – Bastin, Jennifer McIntosh, Avery Andrews and Mya McNew, 3200 relay, 12:55.86; Yeomans, 100 hurdles, 17.45; Yeomans, high jump, 4'8." Third Place – Hailey Ortiz, Chloe Ivey, Kylie Demaree and Andrews, 400 relay, 59.99; Demaree, shot put, 25'3.25;" Yeomans, long jump, 13'10;" Bastin, 3200, 13:19.46.

Milan's Josie Havlin was the conference champion in the 400 dash, winning that event with a top time of 1:03.90. Teammate Elly Potts posted a third place in the 1600 run at 6:29.04 and a fourth place in the 3200 in 13:36.12. Emma Carpenter was fourth in the high jump at four feet and six inches and Anna Herzog competed in the long jump, finishing fourth with a jump of 13 feet and 8.5 inches.

Jac-Cen-Del got a fourth place finish in the 1600 run from Allene Peters at 6:35.17 and Brynn Negangard threw 68 feet and 10 inches to go fifth in the discus. Negangard followed in the shot put with a sixth place finish at 24 feet and one inch while Emma Wagner was sixth in the high jump at four feet and four inches and Kinsey Rohls was sixth in the 300 hurdles in a time of 1:01.65.

All three coverage area teams now look towards next week's postseason. The IHSAA Girls Track and Field Sectional will be held on Tuesday with the boys sectional following on Thursday night. Both events will be hosted by East Central.