Milan boys, JCD girls are 2020 RCT champs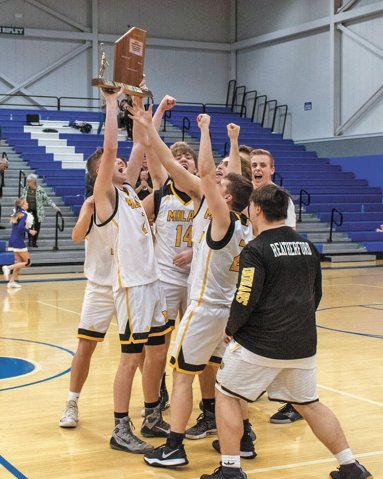 JARED ROGERS PHOTO
The 96th annual Ripley County Tournament saw one team return to glory for the first time in the modern era, and another team solidify their status as the top program in tournament history.

On Saturday, January 11 at Batesville High School, the Milan Indians boys varsity team defeated Batesville for the second time this season to earn their school's first tournament championship since 1960. Milan's fans roared and players were overcome by the thrill of victory as the final seconds ticked off the clock at the game.

The Indians played in nine final games since their last win, but it was their tenacity and spirit this year that put them over the top by a score of 72-63. The win also avenged a loss in last year's tournament championship game to Batesville.

"They played to win," Coach Randy Combs said of his young men. "They didn't let 60 years of frustration come into play. They stuck together. It was all them."

One night earlier, Friday, Jan. 10, Jac-Cen-Del's Lady Eagles defeated Batesville 57-47 for the team's second RCT championship in a row and fourth in five years. The Lady Eagles are now the most successful girls team in tournament history with a total of 11 titles.

"Both teams gave everything they had," said Coach Scott Smith after the game. He credited his team for playing aggressively from the start and fighting through fatigue to outlast their opponents for the championship.

Prior to the championship games, South Ripley's boys and girls teams both won their consolation matches. The boys defeated Jac-Cen-Del 69-54 and the girls defeated Milan 50-27. For more coverage and photos, see today's sports on page 6.