Milan boys, SR girls win tri-meet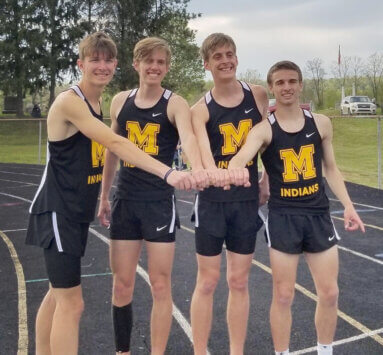 Submitted Photo
A longtime school record fell for a victorious Milan boys team while South Ripley's girls team squeaked out a narrow victory as part of a three-way track and field meet on Tuesday night at Rising Sun.

Milan's boys rolled to another win on the season, this time scoring 90 points while South Ripley was in the distance at 58 points. Rising Sun placed third with 11 points. On the girls side, the Lady Raiders fended off the host Lady Shiners by a final margin of 65-64 and the Lady Indians scored 22 points in one their most improved meets of the year.

The highlight of the night went to Milan's 3200 boys relay team of Ethan Dehamer, Ben Riehle, Gabe Riehle and Ayden Potts who not only won its race but did so in record time. Tuesday night's blazing speed of 8:21.44 shattered the previous school record event time of 8:32 that was set 24 years ago. The 1999 record-breaking squad consisted of former state champion Chris Swisher, Andrew Hixson, Steven Bingle and Jesse Bowling.

A record-breaking win was joined up by 10 other victories by the Indian boys. Cooney was a double-event winner, taking the 3200 run in a time of 10:43.40 and winning the 1600 run at 4:56.04. Austin Green joined him as a winner of two individual events, leaping six feet and two inches to take first in the high jump and throwing 38 feet and eight inches to win the shot put.

Mason Green earned a first place ribbon in the 300 hurdles in 43.84 seconds while Cole McClellan went No. 1 in the 100 dash at 12.16 seconds. Ben Riehle ran 2:13.09 for an 800 run win, Gabe Riehle was first in the 200 dash at 23.56 seconds and Jonny Volk won the long jump at 18'1.25." Milan's final win came in the 400 relay in a time of 46.31 seconds.

The following were second and third place finishers for Milan: Second Place – 1600 relay, 4:01; Cooney, 800 run, 2:17.29; Brady Werner, long jump, 17'7.25;" Gabe Riehle, second, 1600 run, 5:10.06; Volk, 200 dash, 23.68; Abe Hudepohl, shot put, 35'1," Joaquin Allen, discus, 99'9." Third Place – 400 relay, 54.13; 1600 relay, 4:04; Ben Riehle, 1600 run, 5:14.21; Mason Green, shot put, 35'1;" Dehamer, 400 dash, 58.06; Trent Langferman, discus, 98'4.5."

South Ripley put together four first place finishes, led by the 1600 relay team of Jacob Ivey, Jordan Davis, Joseph Davis and Kristian Demaree in a time of 3:57.78. William Tunny put together a time of 16.37 seconds to win the 110 hurdles, Jacob Ivey won the 400 dash in 56.79 seconds and Ryan Gorrell was first in the discus event with a throw of 105 feet and 2.5 inches.

The 400 relay team of Demaree, Tunny, Joseph Davis and Ivey were runner-up in 48.16 seconds and the 3200 squad of Evan Eaglin, Luke Bradley, Hayden Hooten and Jordan Davis ran second at 9:52. Individual second and third place finishers for the Raider boys were: Second Place – Daymon Speer, 110 hurdles, 20.43; Joseph Davis, 400 dash, 57.03; Gorrell, 300 hurdles, 51.91; Hooten, 3200 run, 11:55; Tunny, high jump, 6'0. Third Place – Joseph Jarrett, 110 hurdles, 21.94; Speer, 300 hurdles, 53.03; Ivey, 200 dash, 24.59; Joseph Davis, long jump, 17'6."

South Ripley's Emily Flood won three individual events which were instrumental in a win for the green and white. Flood recorded top times of 15.63 in the 100 hurdles and 12.84 seconds in the 100 dash before winning the high jump at four feet and 10 inches. Shelby Bastin was a double-event winner in the 1600 run at 5:54 and the 3200 run in 13:21.53. Alexa Yeomans won the 300 hurdles in 56.04 and Mya McNew earned the top spot in the shot put with a throw of 25.5 feet.

The Lady Raiders also got two relay wins. Flood, Yeomans, Hailey Ortiz and Chloe Ivey won the 400 relay in 56.29 seconds and Bastin, Katie Miller, Jennifer McIntosh and Kylie Betz won the 3200 relay in 13:42.78. Second and third place finishers for the South Ripley girls included: Second Place – Yeomans, 100 hurdles, 16.06; Yeomans, high jump, 4'8;" McIntosh, 400 dash, 1:15.19; McNew, discus, 75'10;" 1600 relay, 5:22.15. Third Place – Betz, 400 dash, 1:31.86; Avery Andrews, 300 hurdles, 1:05.09; Miller, 800 run, 3:02.13; Ortiz, 200 dash, 30.68.

Josie Havlin got a win for Milan, earning first in the 400 dash in a time of 1:05.40 while also taking third in the long jump at 12 feet and 11.5 inches. She put together a second place run in the 800 at 2:56. Elly Potts posted two second place finishes in the 1600 run at 6:24 and the 3200 run at 14:05. Anna Herzog was second in the 200 dash in a time of 30.28 seconds.
Both Milan and South Ripley compete tonight in Vevay at the Switzerland County Invitational.