Milan boys win, girls 6th at Panther Invite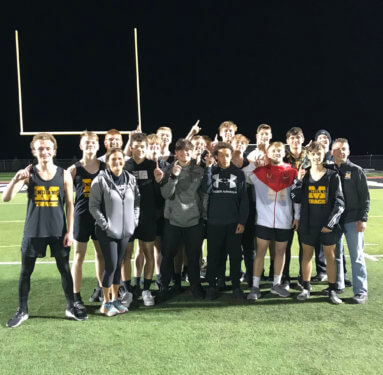 Photo Courtesy of Milan Track and Field
Milan's boys track and field team hit triple digit scoring while the girls competed among eight teams in the Panther Invitational last Friday night at Knightstown.
The Indians scored 126 points in the boys meet for the championship while Tri was runner-up with 101 points. South Decatur at 94 points, North Decatur at 77 points and Waldron at 66 points rounded out the top five. Shenandoah was sixth with 60 points, Knightstown seventh at 40 points and Indiana Math and Science finished eighth with five points.

Milan put together seven wins including two relay wins. Ayden Potts, Ethan Schwipps, Evan Miller and Ben Riehle won the 3200 relay and Riehle, Potts, Schwipps and Peyton Cavins won the 1600 relay. Cavins also finished with wins in the 400 and 200 dashes while Riehle won the 1600 and 800 runs. Schwipps won the 300 hurdles event.

Mason Green finished runner-up in the 300 hurdles and Cavins was second in the 200 dash. Potts was third in the 800 run and Jon Aldridge placed third in the discus.

The girls portion of the meet saw Milan score 48.5 points for its sixth place finish. South Decatur won the girls title with 113.5 points and North Decatur was runner-up with 105 points. Shenandoah scored 89 points and was third, followed by Tri and Waldron with 72 points and 70 points respectively. Knightstown was seventh with 36 points and Indiana Math and Science was eighth with 32 points.

Milan had two third place finishes in the meet. Sophia Thomas was third in the high jump and Lucy Lillis was third in the 3200 run. Isabella Knueven finished fourth in the discus and fifth in the shot put. Lucy Lillis was also fourth in the 1600 run.

The Indians compete on Thursday in a four-way meet in Seymour against Trinity Lutheran, Jac-Cen-Del and Shawe Memorial.