Milan boys win SD Invite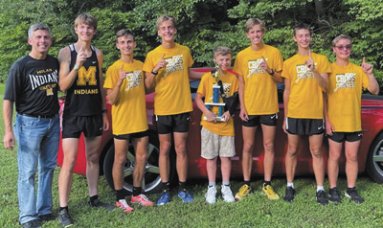 PHOTO COURTESY OF MILAN ATHLETICS
Milan's boys cross country team continues to thrive early in the season as the Indians won the South Decatur Invitational on Thursday evening in Westport.
The Indians were joined on Thursday by South Ripley and Jac-Cen-Del, as well as other area programs in the annual early season invitational.

Milan was near perfect in the boys race and easily won the championship with an impressive 19 points while South Ripley was runner-up with 73 points. Hauser, Southwestern (Shelby) and South Decatur rounded out the top five while North Decatur was sixth and Jac-Cen-Del placed seventh with 163 points.

The Indians took the top four spots in the individual field which included invitational winner Ben Riehle as the junior came across the finish line in 16:48. Freshman Gabe Riehle was runner-up in 17:09.10, junior Ayden Potts was third in 18:05.10 and Lucas Cooney was fourth in 18:38.70. Nathan Voss was a top 10 finisher, placing ninth in 19:19.20 and Ethan Dehamer was 25th in 21:14.60.

South Ripley's Joseph Davis led his team with a 10th place finish in 19:54.40 while Hayden Hooten and Bradley Leach went back-to-back in 12th place and 13th place in times of 19:56 and 20:02.90 respectively. Luke Bradley was 18th at 20:26.70, Evan Eaglin was 20th in 21:00 and Ryan Gorrell was 23rd in 21:08.90. The final Raider finishers were Jordan Davis in 26:42.40 and Cameron Stewart in 27:15.30.

Marshall Johnson led Jac-Cen-Del and placed 21st in 21:01.20 and Cameron Reatherford was 29th in 21:39.80. Peyton Amberger came across the line in 35th place at 22:58.50 while Jacob Ricke was 38th in 23:32.80. The final three Eagle finishers were Dylan Ricke in 24:44.50, Gabriel Maloney in 26:15.70 and Seth Dornbach in 26:53.30.
South Ripley was the only coverage area team to field a complete roster, finishing third among only three squads that were complete. The Lady Raiders scored 44 points while North Decatur and South Decatur tied for the invite title with 39 points apiece.

A team championship was not in the cards but the Lady Raiders did boast the invitational's individual winner as senior Shelby Bastin won the race in a time of 22:06.40, beating out Milan freshman Elly Potts who was runner-up in 22:49.80. South Ripley also saw Virginia Minch in the top five, placing fourth in 25:31.80.
Also running for South Ripley was Elizabeth McKittrick in 13th at 27:02.20 while Mady Tingle and Kaitlyn Tingle ran in times of 39:48.20 and 40:33.10 respectively.

Potts was one of two runners for Milan with the other being junior Emma Jutsi in 44:17.30. Jac-Cen-Del's Allene Peters was 14th overall in 27:07.40, Allison Peetz was 18th in 28:29.30 and Kinsey Rohls was 20th in 31:20.70.