Milan defeats Hagerstown 34-14, now preparing for N. Decatur rematch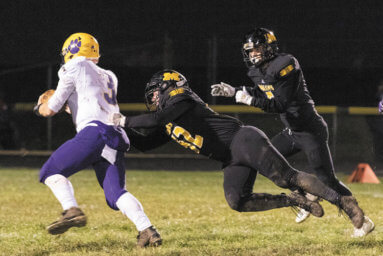 JARED ROGERS PHOTO
The Milan Indians are headed to the Class A Sectional 47 final this Friday, November 8 after defeating Hagerstown in the semifinal round last Friday by a score of 34-14. Milan enjoyed home field advantage over the visiting Tigers and also drew a home game for the final which will be played against their conference foes, the North Decatur Chargers. Kickoff is set for 7:00 p.m. in Milan.

North Decatur defeated Tri by a score of 12-0 in their semifinal game. The Indians and Chargers met back on September 20 in Greensburg, where the red and blue squad shut out Milan by a score of 21-0.

North Decatur owns a 10-1 record on the season, with their only loss coming at the hands of Lapel (2A) back on September 6 by a score of 20-15.

Milan and North Decatur are neck-and-neck in the Sagarin ratings, with Milan currently placed 14th in Class A (174th in Indiana) and North Decatur sitting at 15th in Class A (176th in Indiana.) The Sagarin rankings use strength of schedule, recent play, and a predictor rating to place teams throughout the IHSAA's six-class football system.

Against Hagerstown, defense was the name of the game to start, with both teams trading stalled offensive drives to begin the game. Milan broke through into the end zone for the first time at the 2:55 mark of the first quarter when sophomore running back Cole Steele ran 11 yards for the score.

Milan's defense continued to frustrate Hagerstown into the second quarter, especially thanks to a sack by defensive end Logan Nudds.

Late in the half, QB Wert found receiver Matt Schmitt for a big 54-yard catch and run which put the Indians in scoring position. After a short gain by Steele on the ground, Wert found Adam Norman in the corner of the end zone for another six points.

On the following kickoff, linebacker Riley Johnson made a hard hit on the Tigers' returning runner, forcing the ball loose in a mix of players. Milan recovered the fumble, and on the following drive, nearly copied their offensive drive a few minutes earlier as the half came to a close.

A run by Cole Steele set up another Wert to Norman touchdown pass in the same corner of the end zone to give Milan a three-score lead at 19-0.

Both teams enjoyed a third quarter trip to the end zone, Milan's coming from a 19-yard pass from Wert to Schmitt. The Indians converted for two points thanks to a pass by Parker Lewis to Schmitt following Schmitt's TD catch.

To close the game, both teams scored once more, with Milan's coming from a 14-yard run by Riley Johnson and the extra point kick by Ethan Kaulig. The final buzzer rang with the scoreboard reading 34-14 in favor of the home team.

QB Wert and RB Steele both had solid running stats on the game, with Wert rushing for 85 yards on 15 keeps, and Steele going 81 yards on 11 runs. Logan Reed carried five times for 22 yards, Riley Johnson once for 14 yards, and Peyton Cavins five times for two yards.

In the sky, Wert was eight for 15, passing for a total of 166 yards. Matt Schmitt led receivers with two receptions for 71 yards. Adam Norman had three catches for 42 yards, Ethan Moore had one catch for 27 yards, and Trayton Robbins and Carsyn Ascherman both had one catch for 13 yards. Robbins also had a nice punt return for 26 yards in the first half.

Milan's defense held Hagerstown to under 200 yards on the night and to a 35.7% success rate on third downs and a 16.7% success rate on fourth down attempts.