Milan falls in
Sectional 44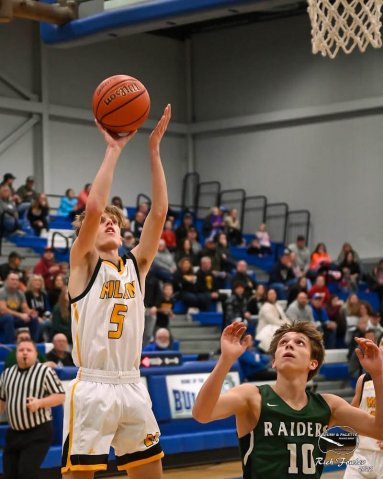 PHOTO BY RICH FOWLER
Milan boys basketball did everything in its power to come up with a game plan that would extend its season on Tuesday night but a gritty effort unfortunately did not produce a winning result as the Indians fell 57-50 to North Decatur in the opening round of Class 2A Sectional 44 at South Ripley.

The loss marks three-straight seasons of being dealt a loss in the team's first sectional game, two of which have now come at the hands of North Decatur. In the last 10 seasons, the two teams have met in the sectional seven times with the Chargers holding a 5-2 record in those games.

As expected, the contest was a physical affair but one that saw offense come rather easily in the first half. North (13-10) was able to hang on in the first quarter for a 15-14 lead and just barely eked out a two-point margin going into halftime as the score stood at 23-21. But it was the third quarter that seemed to set the Chargers up for success. Milan put up 15 points in the opening stanza of the second half but North's offense sizzled with 20 points to answer right back and the scoreboard showed 43-36 going into the final period.

By the end of the night, Milan could get no closer. The two teams played dead even in the final eight minutes, allowing North Decatur to advance to the sectional semifinals.
Two players reached double figures for Milan as Caiden Yorn and Ben Riehle each scored 12 points. MJ Hartman followed with nine points as did Kohen Rinear while Landon Morgan and Holden Acra scored four points apiece.

North Decatur's three-headed monster of Kaden Muckerhide, Lance Nobbe and Blake Spears did the majority of the damage. Muckerhide, a sophomore, led all scorers with 25 points. He had 16 points in the second half and was 12-of-15 from the free throw line in the final two quarters. Nobbe finished with 14 points and Spears added 12 points.
Carson Parmer and Xavier Adams scored four points and two points respectively.

North Decatur faces Triton Central (11-11) in the second semifinal on Friday night in Versailles. The first game pits host South Ripley (12-10) against South Decatur (13-10).
Milan finishes its season out with a 2-19 record.