Milan family of four loses everything in blaze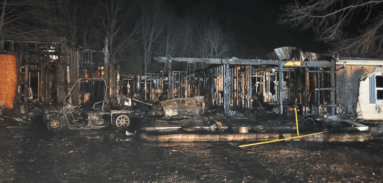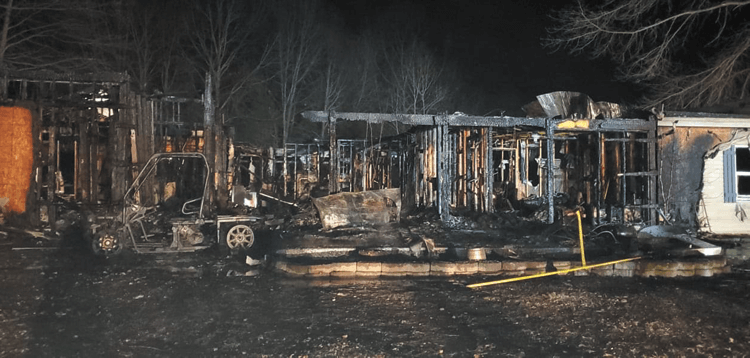 SUBMITTED PHOTO
A fire at the home of Nicholas and Michelle Haugh at 2083 S. County Road 450 East, took everything the family had, except for the clothes on their backs, a Bible and a photo album of the couple's honeymoon, according to Michelle.

The Haughs were not home at the time of the blaze that saw several fire departments responding on Friday about 6:30 p.m. The home was a total loss, but thanks to a neighbor their dog Charlie was saved. The family is grateful for that. They are also grateful for the outpouring of people's love and concern that came soon after the word began to spread.

Michelle wrote, "I woke up this morning praying that the nightmare from last night was just that; a horrible nightmare. But the sight of all the rubble and ash is a raw reminder that this is all too real." She was referring to the home they built together being reduced to ashes while the couple was gone on Friday, December 11.

"I can't express the helpless feeling of watching it all burn down to the ground right before our very own eyes and nothing we could do to stop it. I just wanted it to stop. Watching my kids heartbreak, while mine is shattered inside. We are just lost," Michelle expressed.

The Haughs are thankful for good neighbors and to the Milan, Friendship, Dillsboro, and Osgood fire departments who tried to save what they could. "I will never forget the call," Michelle noted. "'Michelle, your house is on fire, it's gone babe.'"

She asked for prayers that night saying, "We literally have nothing but the clothing on our backs."

A lot changed in a couple days time. "The amount of love and support has been so amazing it brings tears to my eyes," Michelle noted. Total strangers pulled together to help the family. Michelle said she is a prideful person and hates to ask for help. This help just kept pouring in from all over. "This has humbly shown me…we need Jesus' mercy and grace to get through this. And, every single item that has been donated we have needed." She said the family will be staying at 4451 N. Old Milan Road, for a few days.

The road supervisor for UPS is tough, but this was certainly a blow to Michelle and her family, husband and children, Hunter, 12, and Zoey, 6, who are students at Milan schools. She told the Osgood Journal, "We lost all our wrapped Christmas presents…everything."

The staff at Milan schools quickly went into motion upon hearing the news. They have been in touch with the family and have also started a fund raising effort, according to Supt. Jane Rogers. She noted, "They're such a nice family."

Another public fundraiser has been put into place by Jim Bode, Aimee Elza Bode and Chrissy Collins Lanham for this Saturday, December 19 at 4 p.m. at the Milan American Legion Post, 318 E. Indian Trail, Milan. "Ribs and a Tater to support the Haugh family" is the name of the event. The Lanhams, Jeff and Chrissy, lost their livelihood in a fire at the Hog Rock Café Thanksgiving Eve, and are already helping others.

Anyone wanting to help this family may also do so by sending monetary donations to 4451 N. Old Milan Road, Milan, IN 47031 or to the Bridge of Hope Church, addressed to Michelle Haugh.