Milan golfers win ORVC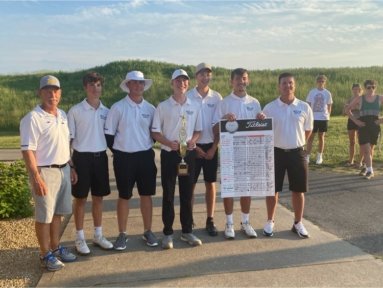 PHOTO COURTESY OF MILAN COMMUNITY SCHOOLS
Milan boys golf dominated five other teams on Saturday and in doing so, captured the Ohio River Valley Conference championship at The Links at Rising Star Casino Resort. 
Winning by nearly 50 strokes, the Indians won the conference title with a team score of 333, besting runner-up Shawe Memorial who sat at a 382. Switzerland County was third with a 386, Rising Sun fourth at 412 and Jac-Cen-Del fifth with a 478. Southwestern (Hanover) competed but did not have enough golfers to qualify for a team score. 
Milan took the top two individual spots in the conference and put four golfers on the All-ORVC team. Josh Clark shot an 18-hole one-under-par 70 for the day and was the individual conference champion while Bryson Harris was runner-up with a 75. Peyton Wert and Cole Knecht punched all-conference tickets with a 94 apiece. Milan's Tyler Walke shot a 100 in a non-scoring round. 
Jac-Cen-Del was led by Derek Borgman with a 111 and Chris Kuhn shot a 119. Ander Reifs carded a 122 and Evan Rinear shot a 126.
The rest of the All-ORVC team included Rising Sun's Chris Bowne (99) and Nate Elliott (98), Shawe's Eli Turner (79) and Charlie Liter (93), Southwestern's Austin Kramer (78) and Foster Mefford (93) and Switzerland County's Bryce Wrightsman (87) and Austin Wolf (92). 
Milan competes in the Rising Sun Invitational on Wednesday while Jac-Cen-Del competes on Thursday at home against Southwestern.