Milan group extends goodwill to 60 families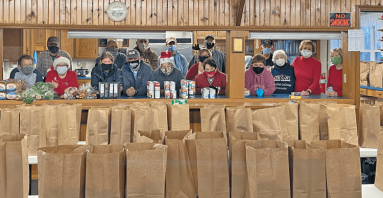 WANDA ENGLISH BURNETT PHOTO
A group of people who wish to remain anonymous have been working behind the scenes for the past few weeks getting things together to help those in need at Christmas.
The Milan based Samaritan's Hope Chest group, who have been operating since 2016, have been working with the Milan Community Emergency Relief group to make sure 60 plus families in the Milan area will be having what they need for Christmas Day. From toys and clothes to groceries by the sack-full, this group was ready for those who came to a designated place last Saturday to pick up the goodies.

A room was completely full of multiple sacks of groceries, plus big sacks of toys and clothes. On the outside there were bicycles of every description, all complete with helmets.
"We have had a lot of help," a spokesperson for the group told The Versailles Republican. She also noted how much she "loved it", as do the others who sort cans and boxes and make sure the toys and clothes are getting to the right household, sort of like Santa's helpers. "The appreciation from those receiving the items makes it all worthwhile."

The group does various giveaways throughout the year as well. They help kids get school clothes and books, help those who have lost their homes in fires and even have a program that makes sure every girl who needs a prom dress can have one.

They are thankful for the many groups that give throughout the year to make their mission possible. They have had lots of generous donations with some including a motorcycle group, local businesses, school groups, 4-H groups, churches and many individuals. It's a collaborative effort of people coming together to make life a little brighter for others. It's about the Golden Rule of doing unto others with no expectation of return.