Milan hosts Indian Trails 5K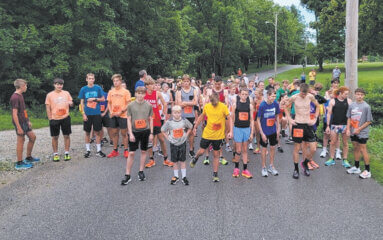 SUBMITTED PHOTO
Nearly 90 competitors braved the heat last Saturday morning, taking part in the Indian Trails 5K Walk/Run at Milan.
The run portion of the event marked the fifth leg of the Southeastern Indiana Racing Circuit Series. One more leg remains as top participants in both male and female categories have all but locked up their places in the series standings.
Greensburg's Joe Hawkins and Milan's Ben Riehle went to war again, this time around seeing Hawkins solidify his first place standing in the series with the win. The Pirate star crossed the finish line in 16:21, outpacing Riehle's time of 16:27. Riehle saw his two-race win streak come to an end on Saturday. Milan teammate Lucas Cooney was third overall in 16:30 and Lawrenceburg's Bradyn Hatton placed fourth at 17:15. Another Indian in Ayden Potts rounded out the top five in 17:49.
Gabe Riehle of Milan was sixth at 18:00 while two other coverage area Top 10 runners were Batesville High School's Isaac Trossman in eighth and South Ripley's Mason Bascom in 10th at 18:21 and 18:48 respectively. South Ripley runner Luke Bradley placed 12th with a time of 19:41 and was followed by Lanie Nicholson of Versailles, who once again was the top female runner in 19:44. She remains well ahead of the pack in the female division with regards to the series standings.
83 total runners took part in the 5K run. The following were remaining coverage area participants in the race: Ethan Dehamer, Milan, 14th, 19:48; Ethan Rahschulte, Batesville, 15th, 20:32; Dominick Werner, Batesville, 20th, 21:00; Benjamin Adams, Batesville, 21st, 21:00; Levi Essick, Batesville, 26th, 21:40; Kaylie Raver, Batesville, 27th; 21:41; Delaney Donawerth, Batesville, 31st; 21:59; Carla Black, Oldenburg, 34th, 22:28; Elly Potts, Milan, 36th, 22:42; Abraham Trossman, Oldenburg, 37th, 22:44; Luke Horstman, Batesville, 41st, 23:24; Ronnie McAllister, Batesville, 42nd, 23:32; Landon Raver, Batesville, 43rd, 23:36.
Asher Black, Oldenburg, 45th, 23:38; Evelyn Kelly, Holton, 46th, 23:50; David Rutherford, Versailles, 47th, 23:54; David Raver, Batesville, 48th, 23:58; Cailtin Raver, Batesville, 49th, 23:58; Dee Raver, Batesville, 50th, 24:40; Alyssa Donawerth, Batesville, 51st, 24:45; Luke Raver, Batesville, 52nd, 24:56; Kristen Honeycutt, Milan, 56th, 25:52; Carter Yelton, Holton, 57th, 26:04; Joshua Hooten, Versailles, 58th, 26:11; Tyler Myers, Milan, 59th, 26:20; Levi Gardner, Dillsboro, 65th, 29:05; Abigail Cooney, Sunman, 66th, 29:33; Charlotte Trossman, Oldenburg, 68th, 29:56; Sam Patterson, Oldenburg, 69th, 29:58.
Lauren Asher, Batesville, 70th, 30:08; Owyn Potts, Milan, 71st, 30:28; Brian Potts, Milan, 72nd, 30:30; Bergan Black, Oldenburg, 77th, 37:03; Tom Black, Oldenburg 78th, 37:09; Lola Laudick, Batesville, 79th, 37:40; Karen Patterson, Oldenburg, 80th, 37:56; Jessica Gardner, Dillsboro, 81st, 39:10.
Darren Steele of Liberty took top honors in the 5K walk with a time of 33:54 and Kevin Rennier of Aurora was runner-up at 39:19. Osgood's Tricia Johnson was third in 44:28 and Bill Whipp of Lawrenceburg finished fourth in 1:08.01.
The final SIRC Series race will be on Saturday morning at the Bulldog Chase 5K in Batesville beginning at 8:30 a.m. Two other races are scheduled for the same day. The Lumberjack Dash 5K at Daren Baker Memorial Park in Milan begins at 7:30 a.m. and the Petals to the Medal 5K in Rushville starts at 8:30.