Milan man arrested after rollover crash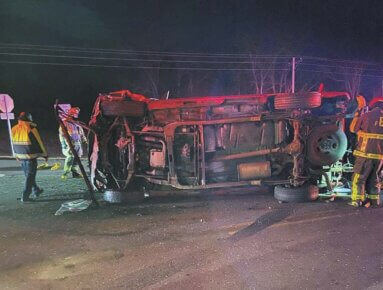 SUBMITTED PHOTO
According to information from Sgt. Stephen Wheeles of the Indiana State Police, a crash on SR 129 was caused by a drunk driver.

The initial investigation by Trooper Sam Simpkins showed that just before 10:00 p.m. a white 2007 GMC Acadia, driven by Justin S. Palmer, 25, of Milan, was eastbound on State Road 48 at the intersection of State Road 129 in Ripley County.

Police say Palmer's vehicle entered SR 129 into the path of a southbound 2005 Chevrolet Avalance, driven by James M. Ratliff, 36, Milan. Ratliff's vehicle collided with the driver's side of Palmer's vehicle in the intersection. Ratliff's vehicle overturned as a result of the collision.

Ratliff and Palmer were both taken to Margaret Mary Hospital in Batesville with non-life threatening injuries.

A passenger in Ratliff's vehicle, Megan L. Hountz, 35, Milan, was entrapped when the vehicle overturned. She was taken by medical helicopter toUniversity of Cincinnati Medical Center for treatment of serious injuries. Four juveniles in Ratliff's vehicle were also taken to Margaret Mary Hospital for injuries.

Palmer showed signs of being intoxicated during the crash investigation, according to police. As a result, he was arrested and taken to the Ripley County Jail on charges of Operating While Being an Habitual Traffic Violator, Operating While Intoxicated Causing Serious Bodily Injury and Operating While Intoxicated with a Prior Conviction. He was incarcerated pending an initial hearing in court.

The investigation is ongoing with toxicology results pending at this time.

The ISP were assisted by the Ripley County Sheriff's Department, Batesville Police Department, Ripley County EMS, Delaware Fire Department, Napoleon Fire Department, and Buckley's Wrecker Service.

Editor's Note: Under the law, criminal charges are accusations and the defendant is presumed innocent unless and until proven guilty.