Milan ready for clean slate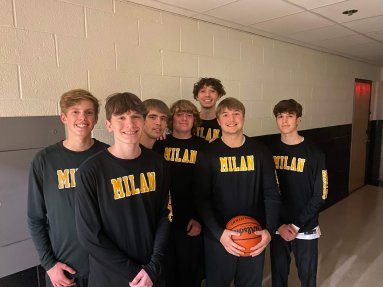 SUBMITTED PHOTO
In most cases a team with less than a handful of wins entering the postseason wouldn't be considered a real threat by any means. But given how wide open Class 2A Sectional 45 at South Ripley is this year … Milan is definitely not an easy out.

Sure head coach Randy Combs and his team are not a favorite but the Indians have enough fight in them to give the program a chance at its first sectional championship since 2003. Currently sitting at 2-17, what happened in the regular season will not matter in just a few short days and the record will stand at 0-0. What will remain is a group of Indians who have matured since late November and have made some awfully good teams in the area very uncomfortable and holding on for dear life.

The defensive end of the floor has to get better though. As physical as Milan is, the team has allowed 63 points per game, foul trouble tends to amp up at the worst of times and battles on the board tend to sway the other direction. When all three pile on at the same time, games look awfully bleak and the Indians have dug early holes deemed to be big to climb out of. Clean up all three, two at that, and this group will find themselves in the game right up until the final horn sounds.

Offensively, the Indians will more than likely try to play a tempo that limits potential turnovers leading to transition points on the other end. If they keep things under control, they've got capable scorers. Ben Riehle leads the team at 10.9 points per game while Caiden Yorn, MJ Hartman and Kohen Rinear have all been high-point scorers at various stops throughout the season. Landon Morgan, who is averaging 5.3 rebounds per game and is a 47 percent shooter, dropped a season-high 22 points against Jac-Cen-Del last weekend and could be another player to factor into the mix on offense.

Milan plays the lone opening round game of Sectional 45 on Tuesday night against North Decatur with the winner facing defending champion Triton Central in the second semifinal next Friday. The Indians have yet to face the Chargers this year and were defeated by Triton Central's crew 49-33 back on January 15.