Milan remembers with special service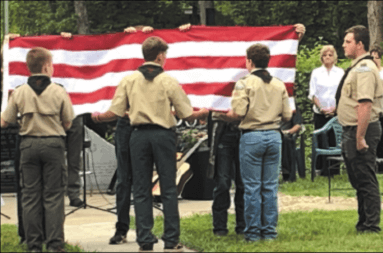 TRACY MCKITTRICK PHOTOS
On Saturday, September 11 a remembrance service was held to honor Col. Canfield Boone, a native of Milan, and the thousands of others who perished in the 9/11 terrorist attacks 20-years-ago.

The Lions Club and American Legion Post #35 played a significant role in the ceremony's events. Additionally, the Flying Tigers Squadron of the US Naval Sea Cadet Corps was in attendance. Tom Holt, Ron Mills, Steve Pruss, and Retired AF Chief Master Sgt. Jay Collars spoke in honor of Col. Boone. Rachel Holt sang the National Anthem and "Travelin' Soldier", while Tom Holt sang a medley of American songs about war, and Gabe Good sang "Courtesy of the Red, White and Blue."

At 8:46, 9:03, 9:37 and 10:02, a 21-gun salute was done in recognition of the moment when each of the four planes crashed into the North Tower, the South Tower, the Pentagon, and a field in Shanksville, Pennsylvania, respectively.

The event's most poignant moment came when Boy Scout Troop 631 folded the American flag and presented it to Boone's family.