Milan resident earns American Legion Educator of the Year honor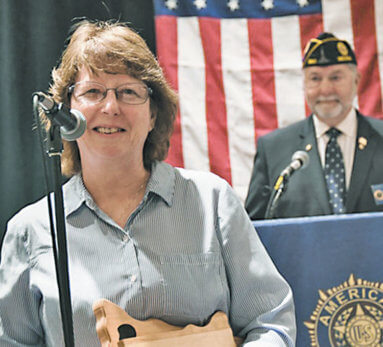 Submitted Photo
During the 2019 Hoosier Legion's 101st Annual Department Convention, Pamela Yates, Milan, was honored as the 2019 seventh and eighth grade Educator of the Year. Prior to receiving State Educator of the Year, she had received distrct honors

Yates, who recently retired from Switzerland County Middle School as a physical education/health teacher, was sponsored by Vevay Post 185. Yates taught at Switzerland County her entire career, spanning 36 years. During her time at Switzerland County, Yates also coached varsity volleyball, basketball, and softball. She organized and started the softball team at SCHS during her first year of teaching.

Along with her teaching responsibilities, Yates has been a member of the National Education Association (NEA) and the Indiana State Teachers Association (ISTA). She has also been the building representative for the middle school and served on many committees, including discussion team, negotiations, school calendar, technology committee for selection of one-to-one devices and curriculum development. She has also mentored new teachers as they have joined the Switzerland County team.

Yates said she knew she wanted to be a teacher as early as elementary school. She had several aunts and uncles who were in the field of education and felt they were great role models. "I chose education because I wanted to make a difference in kids lives. Sometimes there are students that struggle just to make it to school, but to see them succeed is the pinnacle of success for a teacher," stated Yates.

It's been a good year for Yates. She was also recently inducted into the Sports Hall of Fame at North Central High School in Farmersburg, where her basketball team was able to bring home a sectional championship after officially becoming an IHSAA sport.