Milan resident presented with Distinguished Hoosier Award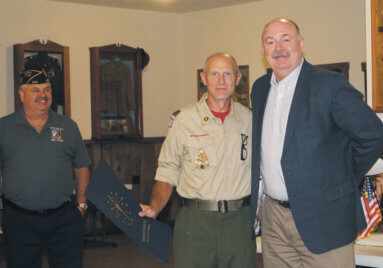 MELINDA STARKEY PHOTO
Albert King was presented with a Distinguished Hoosier Award on Thursday, October 10. The award was presented by State Senator Chip Perfect, on behalf of Governor Eric Holcomb.

King was recognized for his service to his country, state, and community. King had served as scout master for Troop 631 for ten years, where he was able to promote multiple scouts to the rank of Eagle Scout. It was also noted that King had served in the marines.

King was nominated for the award by Joe Volz, whose son became an Eagle Scout under King's leadership. King's family was made aware of the presentation that day, but it was unknown to him that he was getting the award. He said he was both surprised and honored.

The Distinguished Hoosier Award is one of the highest tributes given out by the State of Indiana to its citizens. It is solely granted at the discretion of the Governor to Hoosiers who have uniquely brought admiration and respect to the state through their character and accomplishments.