Milan runners win sectional title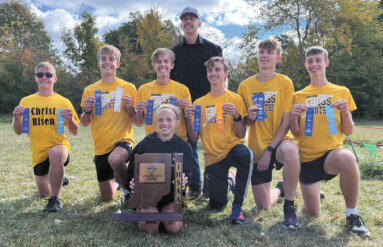 PHOTO COURTESY OF MILAN ATHLETICS
Milan boys cross country knew it would be a contender against the big schools on Saturday morning and the Indians turned contending into winning, claiming the IHSAA Cross Country Sectional championship at South Dearborn.

The Indians, along with Batesville's girls and boys teams qualified for the IHSAA Regional Championship on Saturday. Several individual runners from Jac-Cen-Del, Oldenburg Academy and South Ripley also qualified for the regional and will run as part of the individual portion of the race.

Milan's boys fended off Greensburg en route to the program's first-ever sectional title. The Indians scored 43 points after putting their top three runners in the top 10 while the Pirates scored 54 points in the meet. Batesville finished third with 85 points, East Central was fourth with 95 points and Rising Sun rounded out the top five with 149 points. Just outside of the regional qualifying field was Oldenburg in sixth at 164 points, South Ripley in seventh at 168 points and Jac-Cen-Del in eighth at 221 points. The remainder of the field included Lawrenceburg, South Decatur and North Decatur.

A team championship for Milan paired with an individual sectional title as junior Ben Riehle won the 71-person race in a time of 16:24.10, winning over Greensburg's Jake Hawkins by nine seconds. Teammate and little brother Gabe Riehle made his sectional debut as a freshman and was third overall at 16:44 and junior Ayden Potts ran sixth in 17:07.20. Sophomore Nathan Voss crossed the finish line in 16th place at 17:58.50, freshman Lucas Cooney was 19th in 18:08 and Ethan Dehamer finished out the team with a 46th place finish in 19:46.90.

Batesville's third place finish was paced by sophomore Jacob Chapman in seventh place at 17:08.40 and classmate Isaac Trossman finished 10th in 17:18.50. Deev Ranka and Eli Loichinger finished back-to-back in 21st and 22nd in times of 18:13.70 and 18:14.80 respectively while freshman Cash Myers was 28th overall in 18:32.60. The Bulldogs were rounded out by Paxton Harris in 30th at 18:45.70 and Benjamin Adams at 51st in 20:02.40.

In terms of individual regional qualifiers, Oldenburg led the way with three runners as Carter Walsman was 12th in 17:43.10, Adam Dennis finished 14th at 17:46.80 and Santiago Schuttee placed 27th in 18:31. The Jac-Cen-Del brother duo of Dylan Ricke and Jacob Ricke placed 31st and 34th respectively in 18:52.70 and 19:07.90. South Ripley is sending sophomore Bradley Leach and senior Hayden Hooten to the next round. Leach was 25th in 18:27.70 and Hooten ran 26th in 18:28.30.

The remainder of the boys field at the sectional included: Jac-Cen-Del- Cameron Reatherford, 40th, 19:21.80; Peyton Amberger, 59th, 21:09; Gabriel Maloney, 62nd, 21:27.90; Marshall Johnson, 63rd, 21:46.60. Oldenburg- Noah Schenk, 48th, 19:48.70; Albert Hudepohl, 66th, 23:42.30. South Ripley- Joseph Davis, 38th, 19:18.90; Luke Bradley, 41st, 19:30.40; Evan Eaglin, 43rd, 19:35.40; Jordan Davis, 60th, 21:16.30.

Batesville was the only complete coverage area girls team to advance to the regional, just missing a championship as the Lady Bulldogs scored 31 points and East Central won the sectional championship with 24 points. Greensburg was third with 90 points, South Dearborn was fourth with 133 points and Rising Sun placed fifth with 152 points. Outside of the qualifying field was South Ripley (170 points), North Decatur (198 points), South Decatur (201 points) and Jac-Cen-Del (222 points).

The Lady Bulldogs put three runners in the top five, led by senior Sophie Myers in third place at 19:36.40. Freshman Lexiyne Harris placed fourth in 19:38.50 and senior Ava Hanson was fifth in 19:46.30. Batesville also put in the top 10 a pair of runners in Charlotte Trossman and Megan Allgeier who finished ninth and 10th in times of 20:15.30 and 20:21 respectively. The team's final two runners were Samantha Adams in 14th at 21:21.30 and Kaylie Raver in 15th at 21:26.10.

Six coverage area individual girl runners are heading to the regional, led by three runners from South Ripley. Shelby Bastin was 11th overall in a time of 20:42.80 and sophomore Virginia Minch was 28th in 23:20.20. The Lady Raiders are also sending a fellow sophomore in Elizabeth McKittrick after she placed 37th in 24:48.50. The other three runners included MIlan freshman Elly Potts in 16th at 21:40.70, Oldenburg's Madeline Ryan in 36th at 24:33 and Jac-Cen-Del's Allene Peters, a freshman, at 36th in 24:33.

Remaining girls runners in the race were: South Ripley- Mady Tingle, 56th, 29:39; Kaitlyn Tingle, 60th, 33:34.80. Jac-Cen-Del- Allison Peetz, 41st, 25:17.10; Kinsey Rohls, 54th, 28:48.50; Savannah Steele, 59th, 33:30.30; Seanna Peetz, 63rd, 38:11.10. Milan- Sarah Lillis, 53rd, 28:39.50; Cheyenne Burns, 57th, 30:53.20; Emma Jutzi, 62nd, 37:55.50. Oldenburg- Amelia Crawford, 52nd, 27:57.80.

The regional championship meet will be held at Franklin Community High School on Saturday and begins at 10:30 a.m.