Milan Schools receive 1 of 8 Project AWARE grants in the state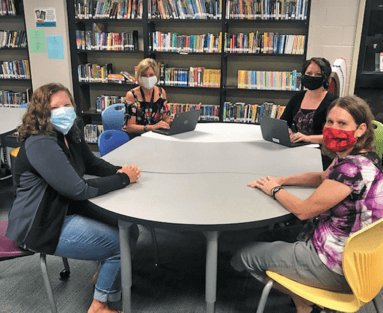 Submitted
The Indiana Department of Education (IDOE) expanded funding for Indiana schools to further increase awareness for mental and emotional wellbeing, while improving connection to available mental health services. This expanded funding was made available through the Project Advancing Wellness and Resilience Education (AWARE) grant provided by the Substance Abuse and Mental Health Services Administration (SAMHSA). Milan Community Schools (MCS) was recently one of eight Indiana schools to receive a Project AWARE grant, with MCS receiving $60,000.

In order to qualify for this three-year grant, which was written and submitted by the four school counselors at MCS, the schools needed to collaborate with a mental health partner. Milan Schools chose One Community One Family (OCOF). OCOF, located in Batesville and directed by Brenda Spade, strives to continually improve services and systems in Southeastern Indiana and beyond in order to improve social and emotional outcomes for children and families. Much of this work is achieved through initiatives and projects with a variety of partners and families. Milan partnered with OCOF to enable them to begin the CARES programming and student leadership groups, which coordinates well with their existing Leader in Me Initiative. OCOF also continues to deliver mental health first aid and suicide prevention training for MCS staff and the community. In addition, OCOF offers parenting education and support groups, parent advocacy services, and peer advocacy services that MCS have sought in the past and hope to continue doing.

The AWARE grant will allow MCS to add an additional Social Emotional Learning Coordinator who will assist with the needs of their students in Kindergarten through grade six. The coordinator will administer a universal screening tool to all students in order to assess needs, will work with groups of students who need the added support, and will work closely with the counseling staff to track and make referrals to local resources for families. In the second and third years of the grant, MCS will be training their student C.A.R.E.S. (Change. Action. Resources. Empowerment. Support) members in a peer mediation program to build leadership and autonomy in their students. C.A.R.E.S members consist of local businesses, town officials, community and charitable organizations, churches, and the school. The goal is for the student leaders to help grow the tutoring and mentoring programs in MCS and also in the Milan community.

School counselors Brenda Schwering, Stephanie Schwing-Stamper, Gayle Healy and Tina Mutz stated they are so grateful to have been selected as one of eight schools in Indiana to receive this grant. They are excited and passionate about the C.A.R.E.S. initiative. As the school year begins, C.A.R.E.S. plans to offer free tutoring and mentoring for students, and the grant will let them expand on that and other services.

They hope to grow their partnership within the community and plan to expand their C.A.R.E.S. support into the Milan area within the next two years. In fact, they have big plans to create a Milan C.A.R.E.S. Center in the Milan community. The counselors are working together to pursue a collective impact model where they would house their best in-class nonprofits, school personnel, mentors, and resources under one roof to provide a "one-stop shop" for their students and families. They hope to offer something different, bold, and more targeted to meet the needs of the families. The top goals of the center are to offer after school tutoring, mentoring, after school programs, weekend recreational activities for families, and provide resources in one safe and local place.