Milan swimmers split a pair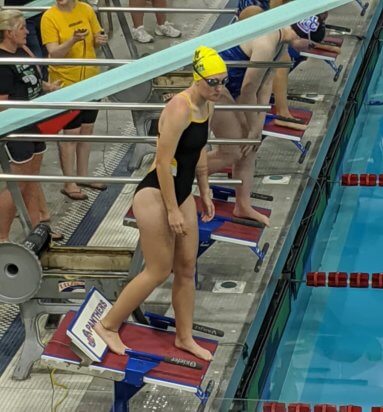 SUBMITTED PHOTO
Milan Aquatics saw its Southeastern Indiana Swimming Association slate continue to pick up strength this past week as the Milan crew split a pair of dual meets in the pool.

Milan swept the girls and boys slates last Tuesday night en route to a combined 371-231 victory against the Jennings County Swim Club in North Vernon. It was the third win in the last four meets for the Milan Aquatics group who continues to stand tall against big competition inside conference action.

The following were individual winners for Milan in the meet: Emily Volz; Cooper Mutz; Julie Knueven; Caiden Felver; Alaina Stock; JJ Mutz; Ariel Haessig; Taylor Stock; Parley Hartwell; Molly Knecht; Hunter Wickizer; Adam Volz. Milan's relay winners included Jordyn Huebner, Molly DeWire, Emily McKittrick and Ashlyn DeWire.

Milan returned to the pool the day after on Wednesday in the final home meet of the season but fell hard to the Madison H2O Swim Team, dropping a combined 802-417 final to the group from Jefferson County.

The boys side of the event saw Milan have two swimmers with four wins apiece on the day. Caiden Felver starred in the Age 8 and Under Division, winning the 25 freestyle in 21.17 seconds, the 25 breaststroke in 33.81 seconds, the 25 backstroke in 26.90 seconds and the 50 free in 38.67 seconds. The Age 14 and Under Division saw Dylan Thomas take a victory in the 50 breaststroke in 30.18 seconds and follow with wins in the 50 backstroke at 27.38 seconds, the 100 freestyle in 55.87 seconds and the 100 individual medley at 1:02.67.

Cooper Mutz won the 25 freestyle in the Age 6 and Under Division in a time of 38.67 seconds and JJ Mutz took a win in the 12 and Under Division, winning the 50 breaststroke in 38.53 seconds. Mutz alongside Tom Poole, Brady Begley and Hunter Wickizer won the 200 medley relay inside the 12 and Under Division.

The girls side of the meet saw Milan's Aeriel Haessig win three events. Haessig -swimming in the 18 and Under Division- won the 50 backstroke in 30.90 seconds and followed with a first place ribbon in the 50 butterfly at 30.79 seconds and a win in the 100 freestyle in 1:01.49. Abby Moore won the 200 freestyle in 3:03.33 and Molly Knecht competed in the 12 and Under Division and won the 50 butterfly in 33 seconds flat.

Milan wrapped up the regular season on Monday at Hidden Valley Lake and now sets its sights on the SEISA Conference Championship meet on Saturday at Madison.