Milan to remember fallen son: Lt. Col. Canfield "Buddy" Boone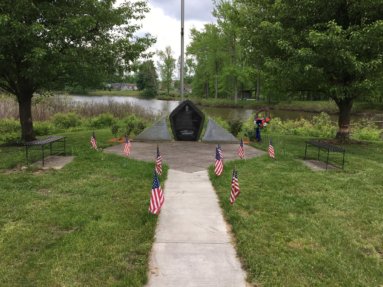 SUBMITTED PHOTO
Twenty years ago people in Ripley County were in shock when they realized the terrorist attacks would directly impact the town of Milan.
Lt. Sgt. Canfield "Buddy" Boone, 1966 graduate of Milan High School, was among those who lost their lives when the Pentagon was struck.

"Our lives changed forever that day," Deanna DeMotte, sister to Boone, told The Versailles Republican. She said, "Everything is different since Buddy's gone." Deanna and her sister, Joy Caplinger, were the girls and they were thrilled to have a baby brother, when Buddy came along. DeMotte said, "He was always our steady, gave advice, he called every Sunday night," saying how he kept in close contact with their mother, who lived to be 100-years-old.

The bright, rising star from Milan, had a successful military career that took him to the Pentagon where he served his country with pride. Since 2001, Elda Gail Boone, Buddy's mother, has passed away, along with his wife, Linda. They also had another loss just recently in the family. "We were a different family then – it's a different world now," DeMotte expressed. She talked of many people she knew that have now passed away. "It's just sad," she noted. She was living in Arizona when her brother died and has since moved back to her hometown of Milan, where she grew up with her siblings.

Remembering the day quite vividly when Buddy was killed, DeMotte said she was working in a Macy's Department Store and was called to the office. "I really thought I was in trouble," she said. However, she would soon learn she would have welcomed any kind of trouble over the information she then received.

Lt. Sgt. Boone was only 54-years-old when the tragic events of September 11, 2001, unfolded, encasing him forever at that age. He left behind three sons.
This year the Milan Lions Club has put together a 20-year 9/11 Remembrance Ceremony set for Saturday, September 11. It will begin at 8:30 a.m. and end at 10:15 a.m. in the Daren Baker Memorial Park in Milan. This is to honor those who died on that day and since due to the attacks.

The event will take place in the back portion of the park at the WWII/Buddy Boone Memorial with a 21-gun salute taking place at each time a plane crashed on that day. Between each salute there will be a variety of speakers and music. Those participating include Boy Scouts, Sea Cadets, Boone Family members, Milan Class of '66, PG Gentrup, Jay Collars, Tom Holt, Rachel Holt, Milan High School Choral students, and The American Legion Post 235.

Everyone is welcome to this solemn occasion to remember, reflect and look ahead. There is limited seating, so you are encouraged to bring lawn chairs.