Milan town board elects new president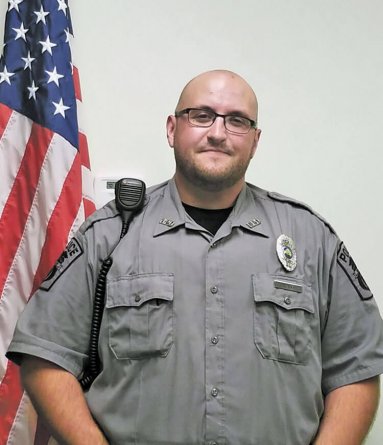 Melinda Starkey Photo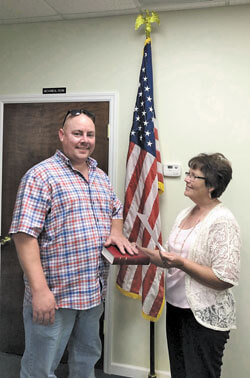 At the July 8 regular meeting of the Milan town board, it was noted that Don Call had resigned as president of the town board. Floyd Fox was named president and Deb Shumate as vice president, replacing Fox's previous position. This left a vacancy for an at-large member to replace Shumate's previous position. According to Ginger Bradford, chairperson of the Ripley County Republican Party, a caucus was held July 9 to determine this vacancy. Andrew Olman was voted in to fill the position of at-large member of the town board. Olman was sworn into office and will begin his duties immediately.
After asking for revised bids from both Rumpke and Best Way for the garbage pickup contract, new bids were opened. After being reviewed by Lynn Fledderman, town attorney, the provider was determined at a special meeting on July 11. Because it was determined both providers were responsive and responsible, the decision was based on lowest price, which was met by Best Way. The new contract will also include heavy trash days the first Friday of every month. Heavy trash consists of normal large items of household trash (such as furniture, appliances without freon, etc.) and does not include tires, appliances with freon, and construction items. The first heavy pickup will be August 1. Due to the change in providers, the town board is asking that town residents put all of the Rumpke carts they currently have out on July 26, Rumpke's last pickup day. Best Way will be replacing the carts with theirs on the same day.
A Milan resident expressed their concern for speeding on Mill Road since it has now been paved. This has been brought up in the past and Milan police have been running radar there. A suggestion was made that a 4-way stop or speed bumps be placed here.
It was approved for the beautification committee to put a sandwich board up by the flagpole to remind everyone of the board meetings on Mondays. The committee will be purchasing the board and will be responsible for putting it up on Friday prior to meetings and removing promptly after the board meeting.
An ordinance was passed stating there will be no parking any time on the west side of Main Street beginning at Ripley Street and continuing south to Ashley Street.
In new business, the board agreed to waive the cost of the pool fill for Kristy Sams, who tragically died in the beginning of June. The board also agreed that the cost of televising the sewers would come out of the Riverboat fund. The total cost will be $62,000. In addition, the town needs two new sewer pumps that will run $6,451 each. It was determined it would cost as much to rebuild the current pumps as it would be to purchase new ones. The cost of these will come out of the sewer account.
Town Manager John Ingram reported they have an issue with a water leak on Josephine Street, they continue to cut grass in the park and town, weed eat along SR101, cleaned out the ditch on Mill Road and East Carr Street, worked on walking trail for 5K, and performed maintenance as necessary. You will also see freshly painted curbs and stop areas in town.
Town Marshal Terry Wilson congratulated Travis Day for his graduation from the academy on June 28. Wilson also reported there were two ordinances, two theft reports, one criminal mischief, one domestic call, one indecent exposure, nine traffic warnings, one personal injury accident, two personal damage accidents, 34 calls for service, one assist to Fire/EMS, and three assists to other agencies. There were a total of 42 reserve hours for the month of June.
Prior to adjourning the meeting, Fox recognized Shumate for spearheading the Milan Clean Up week and acknowledged all of the work she had put into it.
The next regular meeting of the Milan Town Council will be held August 12 at 6:30 p.m. in the Town Hall.