Milan woman killed in two vehicle crash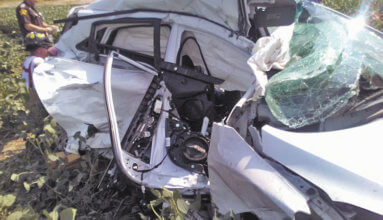 SUBMITTED PHOTO
A two-vehicle crash on Saturday, September 21 has claimed the life of a Milan woman, 57-year-old Kimberly S. Prather.

According to a press release from the Ripley County Sheriff's Office, the crash occurred on US 421 near County Road 700 South, south of Versailles.

When Versailles firefighters arrived, they found a pickup truck on its top with the driver out of the truck. The second vehicle (Prather's car) was out in a field, a fairly long distance into the field, according to Versailles Fire Chief Ben Sieverding. Versailles units were dispatched at 12:43 p.m. on Saturday and arrived on the scene at 12:52. Sieverding noted that was "pretty good response for a volunteer fire department".

Prather had been traveling south on US 421 operating a white 2016 Hyundai Elantra when for unknown reasons she turned left in front of Larry T. Meyer, 46, of Versailles, who was traveling northbound on US 421.

Prather sustained massive head trauma from the crash and was extricated by Versailles Fire and Rescue. She was then airlifted to Methodist Hospital by University of Cincinnati Life Line where she later passed away. She was the only occupant of the vehicle she was driving.

Meyer, who was the only occupant of his 1994 Chevrolet pickup, received minor injuries and was treated and released at the scene.

Both drivers had seatbelts on and no drugs or alcohol are suspected as being contributing factors in the accident, according to Lt. Randy Holt of the Ripley County Sheriff's Office, who investigated the crash.

Departments responding to the scene included those mentioned along with New Marion VFD and Ripley County EMS.

Funeral services are pending at Laws-Carr-Moore Funeral Home in Milan for Prather.