Milan youth wrestle at state level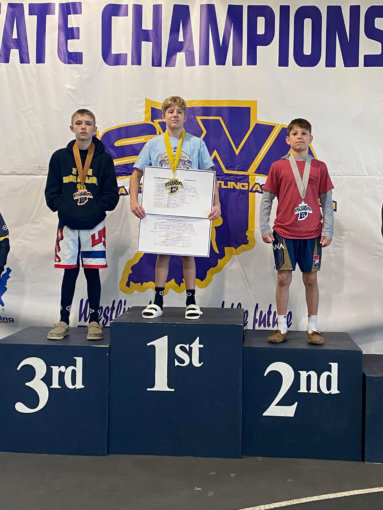 SUBMITTED PHOTOS
The high school winter season may be over for Milan High School wrestling but the future of the Indians was recently on full display, both boys and girls, at the ISWA State Championship just a few days ago in Indianapolis.

Grapplers from all over the state made an appearance at Warren Central High School and Milan turned in one of the better performances among those in attendance. The Indians came back to the coverage area with two state titles in tow.

A fifth grader and an eighth grader laid claim to state crowns. Fifth grader Mason Baylor went a perfect 5-0 on the day and won his third state championship, laying claim to the 12 and under title in the 63-pound division. His performance was matched by Milan Middle School's Kayla Roell who is now also a three-time winner. Roell, in eighth grade, competed in the 112-pound middle school division and went undefeated for the day en route to a state championship.

Matthew Baylor, an eighth grader, was a podium finisher for Milan Middle School. Baylor, a 92-pound division participant, competed in eight matches at the state meet and finished the day with a 7-1 mark. His performance was good enough for third place, earning him his third podium finish at the state finals inside the ISWA. Other Milan participants included fifth place finisher Hayden Poole in the 70-pound weight division and Lane Smith in the 78-pound division in eighth place.

Reports have said that making the podium is a huge accomplishment for these youth each year and that some of the best youth wrestlers in the entire state compete at this event. Given the results spanning several grade levels, the future is bright for the Milan black and gold.