Milan's Clark advances to regional golf tournament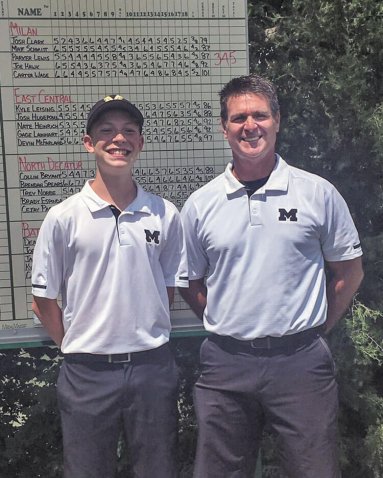 Submitted Photo
Milan Indians sophomore golfer Josh Clark shot an 18-hole round of 79 at the IHSAA sectional hosted by Greensburg Country Club on Friday, May 31, to earn a spot playing in regional competition. Clark's score, which included four birdies on the day, placed him third among individuals advancing without a team at the 13-team sectional. Other individuals without a team advancing included Andrew Wagner (Oldenburg Academy) with a score of 78 and Andrew Miller (South Dearborn) with a score of 79.
The overall individual medalist was Henry Kiel of Columbus North. His round of 69 placed him one under par at the country club's par 70 course. Drew Smith (Columbus North) followed Kiel with a score of 71, while Mark Mayhew (Columbus East) placed third with 74.
As a team, the Milan Indians placed fifth overall with a score of 345. That was made up of Clark's 79, a pair of 87 rounds from Matt Schmitt and Parker Lewis, and a round of 92 from Joe Hawk. Carter Wade also competed, shooting 101.
Team results were as follows: Columbus North (294), Columbus East (319), Greensburg (324), South Dearborn (325), Milan (345), East Central (358), Oldenburg (367), Hauser (369), Batesville (379), North Decatur (383), Jac-Cen-Del (410), Lawrenceburg (434), and South Decatur (443).
Jac-Cen-Del was led by Garrett Boor, who shot 85. Thomas Ogden followed with 106, then Dylan Meyer with 109. Dalton Simon rounded out his team's score with 110. Spencer Johnson also competed, shooting 132.
The IHSAA regional is slated for Thursday, June 6. Clark will play at Champions Pointe Golf Club in Henryville with tee-off scheduled for 8:00 a.m.