Milan's Fernando Gomez swims his way to the IHSAA State Finals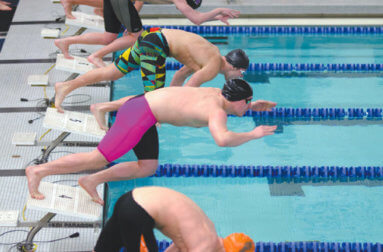 Photo courtesy Fernando Gomez
Milan Indians senior Fernando Gomez will travel to Indianapolis this Friday, February 22, to race in the IHSAA Swimming Championship in the 100 yard breaststroke race. Gomez swam a school record time in the sectional to take second place in the event, which was enough to send him to the biggest race in the state. At the IUPUI Natatorium, Gomez will swim against 31 other competitors in the event.
On his swimming portfolio website, Gomez writes that he's been in the pool since he was three years old. He began swimming competitively in 2015 for C.N. Ciudad de Oviedo, a team hailing from Gomez's native country of Spain. It is his second time qualifying for the IHSAA State Finals races.
As a team, Milan placed sixth in the 11 team sectional competition with 147 points. That put them ahead of Lawrenceburg (124), Edgewood (103), Greensburg (88), Batesville (52), and South Dearborn (26).
Columbus North won the sectional as a team with 418 points. Bloomington South placed second (402), Bloomington North placed third (346), East Central placed fourth (272), and Columbus East placed fifth (196).
Milan's boys broke school records in four separate events to end the season. In relays, Noah Haessig, Fernando Gomez, Ben Hartwell, and Adam Volz set new records in both the 400 freestyle and 200 medley races. Gomez also broke the record for the 200 freestyle and 100 breastroke.
Several Milan swimmers advanced from the Thursday sectional preliminaries to Saturday's finals. Noah Haessig placed seventh in the 50 yard freestyle final and seventh in the 100 yard freestyle final. Ben Hartwell finished 10th in the 100 yard breaststroke final and 15th in the 200 yard individual medley final. Adam Volz finished 11th in the 100 yard backstroke final. Ryan Schwipps finished 15th in the 100 yard backstroke final. Finally, the relay team of Ryan Schwipps, Evan Bible, Dakotah Knueven, and Matt Hall placed ninth in the 200 yard freestyle relay.