Milan's Garrett Condo is regional champion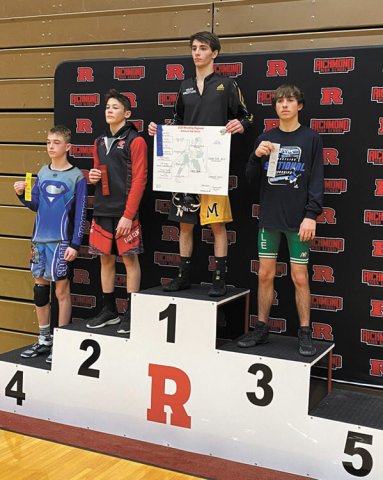 SUBMITTED PHOTO
Milan varsity wrestlers Garrett Condo, Ashton Myers, Shane Lonneman, and Brady Myers are headed to the IHSAA Semi-State round of the wrestling state tournament following strong finishes at the regional hosted by Richmond High School on Saturday, February 8. Those four boys finished in the top four of eight individuals in each weight class at the regional.

Condo won his 106 pound weight class for the second week in a row. After a first round forfeit, Condo pinned his semifinal and final opponents to earn the top spot on the podium at the end of the day.

Brady Myers pinned his first round opponent in the 285 pound weight class. Myers went on to pin his semifinal opponent, too, before being defeated in the final round, earning him second place overall.

Ashton Myers and Shane Lonneman both defeated their first round opponents, but fell in the semifinal and consolation matches to earn fourth place. Myers competed in the 120 pound weight class and Lonneman at 132 pounds.

Also competing at the regional from Milan, but losing in the opening round, were Richard Condo at 113 pounds, Hunter Merida at 182 pounds, and Zach Hauser at 195 pounds.

As a team, Milan placed fifth with 55 points among 19 teams represented at the meet. East Central took top team honors with 193 points. Centerville followed with 77, New Castle was third with 66, and Lawrenceburg placed fourth with 57 points.

The semi-state will be held at New Castle High School on Saturday, February 15. The meet is set to begin at 9:00 a.m. Tickets are $10.00 for the final round only or $12.00 for a full day ticket. The top four place winners in each weight class advance to the state finals to be held the following weekend, February 21-22, at Bankers Life Fieldhouse in Indianapolis.