Milan's Maitri Patel named Indiana All Star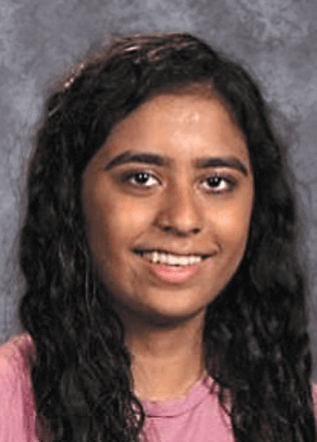 Maitri Patel, 17 a senior at Milan High School is one of 40 seniors from throughout Indiana who have been named 2021 Indiana Academic All-Stars, a program of the Indiana Association of School Principals (IASP). In addition, 50 other students were recognized as Academic All-Star Regional Honorees. The students were selected from a field of 270 outstanding nominees from the state's private and public accredited schools.

"I didn't realize I was one of 40, I didn't know what to feel," Patel told the Osgood Journal in an interview. She said she was excited to tell her family. She is the daughter of Bhavisha and Rakesh Patel of Milan. She also has an older sister.

Academic All-Star distinction recognizes seniors who excel in the classroom first and foremost, but who also are actively involved in their schools and communities, and take on leadership roles in those activities.

The IASP Indiana Academic All-Stars program salutes academic excellence in the same manner that student athletes traditionally are honored. By providing a showcase for academically talented seniors, the sponsoring organizations hope to accomplish the following objectives:

Give academic achievement the prestige it deserves.

Motivate students to recognize the value of academic excellence.

Provide students with an incentive for academic achievement.

Promote a positive image of Indiana's young people.

Of Maitri being named an Indiana Academic All-Star, Principal Ryan Langferman isn't at all surprised. "We are very proud of Maitri. She is an outstanding young lady with big goals," he noted. Principal Langferman went on to say Maitri is taking her rightful place among others of this rank.

Maitri is president of the National honor society, Student Council, Academic Team, and finds time to play tennis. A hobby she thoroughly enjoys is cooking. She plans to attend college, majoring in chemistry with pre-med concentration in orthapedics. Her ultimate goal is to be a sports medicine doctor.

"We always nominate someone from the school, but have only had a few in the past who received this honor," Principal Langferman noted. He said the senior is also the county's DAR Good Citizen and earned the Mortara Scholarship. "She's had an exciting few weeks and well deserved. This validates her hard work she's put in and now she's ready to reap some of the rewards," he concluded.