Milan's Riehle wins regional, headed to IHSAA State Finals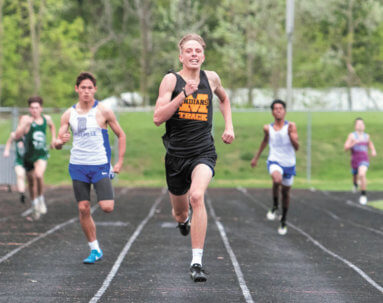 jared rogers photo
Milan junior Matt Riehle continued his successful 2019 track and field season by winning the 400 meter dash at the Warren Central regional and earning a spot in the IHSAA State Finals on Friday, May 31 at the Robert C. Haugh Track & Field Complex, Indiana University, Bloomington. The 400 meter dash is scheduled for 7:05 p.m.

Riehle ran the race in 49.52 seconds, just .12 seconds off of the regional record at that site. Riehle bested New Palestine's Lanie Schonauer, who finished in 49.83. He will enter the state finals ranked 12th overall based on regional times from across the state.

Along with Riehle, Milan's Peyton Cavins ran the 200 meter dash. Riehle finished sixth in the preliminaries in that race, and eighth overall in a time of 25.61 (22.69 in prelims). Cavins finished 11th in the preliminaries with a time of 23.2.

Jac-Cen-Del's Damon Hughes finished 11th in the boys 1600 meter run, running the one mile distance in 4:48.5. The Eagles also had high jumper Garrett Boor competing. He finished in ninth place at a height of 6'0".

South Ripley's Mark Adams capped off his senior season with a 15th place finish in the discus, throwing 121'9".

Local boys compete in track and field sectional

Boys track and field athletes from all of Ripley County's schools joined a total of 13 teams at East Central High School on Thursday, May 16 for IHSAA sectional competition.

Team results were as follows: East Central – 164, Batesville – 118.5, Franklin County – 74.5, Greensburg – 73.5, Oldenburg Academy – 35, Milan – 33, South Dearborn – 29, Jac-Cen-Del – 25, Lawrenceburg – 22, Rising Sun – 20, South Ripley – 13.5, South Decatur – 9, and North Decatur – 7.

The Jac-Cen-Del Eagles had two athletes qualify for regional level competition, Damon Hughes in the 1600 meter run, and Garrett Boor in the high jump. Hughes was second overall in the 1600, finishing in a time of 4:45.15, six seconds behind the winner from Batesville, Joshua Myers, who ran in 4:39.55. Boor placed fourth in high jump, clearing a height of 5'10".

The Milan Indians also had two athletes advance to the regional, Matt Riehle in the 400 and 200 meter dashes, and Peyton Cavins in the 200 meter dash. Riehle won the 400 meter dash in a time of 50.13 seconds. He placed third in the 200 meter dash in 23.66 seconds. Cavins placed second in the 200 meter dash in a time of 23.63 seconds.

The South Ripley Raiders had one athlete advance to regional competition, Mark Adams in the discus. Adams placed second in that event, throwing 127'6".

Other notable finishes among local athletes included: Peyton Cavins (M) – fifth in 100 meter dash and Blake Simon (JCD) – fifth in shot put and fourth in discus. Milan's 4×400 meter relay team of Trent Burdette, Casey Burdette, Peyton Cavins, and Matthew Riehle placed fourth.