Military procession moves through county- Osgood Navy man to be laid to rest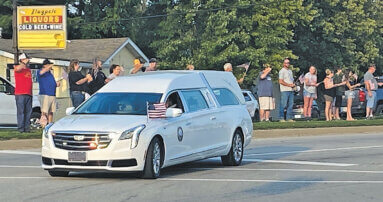 WANDA ENGLISH BURNETT PHOTO
A community came together Friday evening, August 18, when Corpsman Joshua Arquiza, 24, of Osgood, was escorted home after serving in the U.S. Navy. At the Intersection of US 50 and 421, the streets were lined with people paying their respect to the fallen Corpsman, and the roads were completely closed for the escort.
Traffic came to a halt as Versailles Fire Chief Ben Sieverding rolled various fire apparatus trucks into place at the intersection and fire companies from across the county lined US 421 further down by the Versailles Church of Christ. Veterans, firemen, EMS personnel, their families and many others stood at attention as the Hearst rolled through Versailles.
He moved to the United States in May of 2022 to be with his parents, Deborra and Joe Vanderpohl. Arquiza entered the United States Navy on September 11, 2022. He died unexpectedly on July 27, 2023, in Bremerton, Washington, according to information from Morgan and Nay Funeral Centre, who is in charge of arrangements.
Corpsman Arquiza was born February 8, 1999. He was born and raised in the Philippines and graduated high school there in 2017. During high school, he enjoyed playing chess and was a champion of the Chess Club several years in a row. He enjoyed singing and playing musical instruments, especially the guitar, bass, and drums. He loved running, playing video games and was of the Christian faith.
Visitation will be held Wednesday, August 23, 2023 at 9:30 a.m. until 10:30 a.m. at the Morgan & Nay Funeral Centre, 325 Demaree Drive in Madison. At 10:30 a.m. the procession will begin to the Indiana Veterans Memorial Cemetery Chapel, 1415 North Gate Road, Madison. A funeral ceremony will be conducted by Pastor Mike Hamby at 11:00 a.m. at the Cemetery. Interment will follow.
Besides his parents, Arquiza will be missed by his brother, Justin Arquiza, Osgood, step brothers, Joe Vanderpohl (Jennah) of Madison, Drew Vanderpohl, Batesville, step sister, Janna Brook Vanderpohl of Burns, TN, nephews, Joey and Jacob Vanderpohl, grandfather Eduardo Banayat and step grandmother, Anita Banayat of the Philippines, step grandparents, Ray and Joan Catron of Versailles, an aunt, Leden Lopez (Ferdinand) of the Philippines, Bernabe Banayat (fiancée Angel Bordago, Philippines, Julie Underhill (Rick) of Greensburg, Amy Hude (Jeff) of Texas, and Lori Black of Greensburg; cousins Frank Danenielle Lopez (fiance Jezebel Rimas), France Denson Lopez, Denzy Dianne Lopez, and Francis Dave Lopez, along with other relatives.