Miss Homestreet takes home the Governor's Cup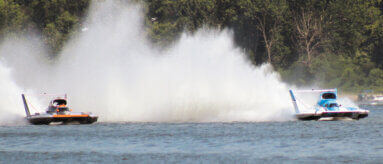 WOODY BUSH PHOTO
Although a boat flipping end-over-end wound up the big story of the weekend, Jimmy Shane and the U-1 Miss HomeStreet/Miss Madison claimed the Indiana Governor's Cup as part of hydroplane racing on the Ohio River at the Madison Regatta.

Boats hit the water last Friday while Saturday and Sunday served as racing days for three different classes of race action which included the H1 Unlimited series, the main event of the weekend. Having dominated practically the whole weekend, it was no surprise that Shane and the hometown boat was crowned champion in the final race, topping out at nearly 148 mph on the water en route to a dominant victory. Jeff Bernard in the Goodman Real Estate was runner-up while Jamie Nilsen was third in the Miss Colleen and J. Michael Kelly was fourth in the Miss Tri-Cities. The Miss Madison crew after two weekends of the series leads the national point standings with 3300 points after winning all three official Regatta races.

As for the big boat wreck, Corey Peabody in the Lynx Healthcare was the Gold Cup winner two weeks ago and threatened Shane for the Governor's Cup early in the final race on Sunday. The two were neck-and-neck heading into the final lap of the race when Peabody's boat hit a roller in the water and the nose of the boat started to go into the air. Unable to bring the boat down, Peabody and the boat flipped in mid-air and came crashing down, forcing rescue crews to force his lid up and get him out of the boat and to the race course medical facility. The wreck forced the race to end a lap early, giving Shane the win. As for Peabody, he was treated for a few bumps and bruises before being released to his family.