Miss Ripley County 2019 crowned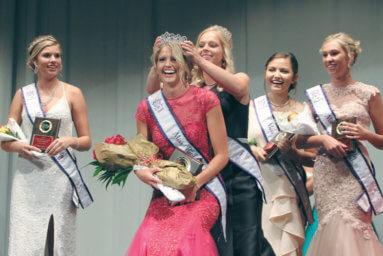 Melinda Starkey Photos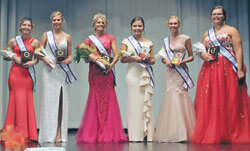 It was standing room only for the 61st annual Miss Ripley County Queen contest held Sunday, July 14, as Heidi Speer was crowned the 2019 queen. Speer, 20, of Holton, is currently a sophomore at Purdue University where she is majoring in ag finance and agronomy and hopes to have a career in ag retail. Speer said she felt humbled and excited to take this honor and looks forward to participating in the fair, which she was very active in as a 10-year member of 4-H.
Speer, looking elegant in a long pink dress, also earned an award for her formal wear, as well as the People's Choice Award. Her professional wear included a black pant suit with white trim. Speer will receive a $750 scholarship. Speer is not the first in her family to take the coveted crown. In fact, she is the third sister to have the honor of being crowned Miss Ripley County Queen.
The queen's court included fourth runner up Anna Liming, third runner up Shalee Harrington, second runner up Malia Scheele, and first runner up Abbey Knowlton.
Liming, 19, of Dillsboro, will be attending Ball State University in the fall to complete her major in elementary education. Liming said she enjoyed walking the stage and making new friends throughout the competition and was genuinely excited to be part of the court. Harrington, 16, of Batesville, is currently a junior at Batesville High School and plans to be an ultrasound technician. She too also enjoyed meeting new people and making new friends and said she was both shocked and excited to be a part of the queen's court, as there were so many great girls here. Scheele, 16, also of Batesville and a junior at Batesville High School, hopes to have a career in sonography. She said she is very proud of herself and excited to be chosen as second runner up. She is looking most forward to the Olympics at the fair. Each of these girls will receive a $100 scholarship.
Knowlton, 17, of Osgood, is a senior at Milan High School and plans to attend college to major in business and agribusiness. Knowlton said she was both shocked and excited when she heard her name called as first runner up. She said the sleepover was one of her favorite parts of the pageant experience and is looking forward to fair week. Knowlton will receive a $150 scholarship.
Miss Congeniality went to Lacy Engelking, 19, of Sunman. Engelking is a sophomore at IUPUI majoring in radiology. She was humbled that the girls chose her for this honor. She has participated in the competition for three years and has enjoyed meeting the different candidates each year. She will receive a $100 scholarship.
The Professional Wear Award went to Olivia Davis, 16, of Milan. She wore a black pantsuit with bell sleeves on the jacket. Davis received a plaque for winning this category.
All court members will be present at the Ripley County 4-H Fair as official ambassadors of the 4-H organization. Miss Ripley County 2019 will also compete in the Indiana State Fair Queen Pageant as a representative of Ripley County.
While the girls were all smiles and composed in each of their categories, there was a somber moment during the night when Amanda Kunz was thanking the committee for the work that they did to make this night happen. A teary-eyed Kunz acknowledged the recent passing of committee member Kristy Sams, explaining that the money raised for the People's Choice Award will this year go to Kristy's kids. They made just over $1600 for this cause. Committee members consist of co-chairs Amanda Kunz and Monica Hanson, Miss Ripley County 2018 Alyssa Brinkman, Miss Ripley County 2017 Hanna Speer, Miss Ripley County 2016 Carah Cumberworth, Miss Ripley County 2011 Sarah Wenning, Sarah Adams, Debbie Ertel, (late) Kristy Sams, Sara Comer, and Jane Brinkman.
The judges for the evening were Annie Romine, Darlene Bradshaw, and Kaitlin Staschke, with Ashley Werning as judge's chair. They certainly had a difficult job as all 12 candidates presented themselves with grace and poise under the lights of the stage.