Miss Ripley County Crowned; court named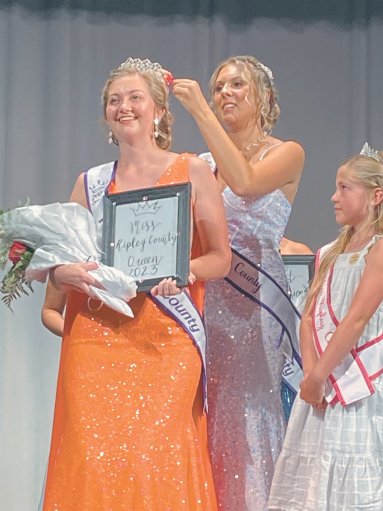 WANDA ENGLISH BURNETT PHOTO
Just two days before the deadline for the 2023 Miss Ripley County Pageant there was only one entry. Amanda Kunz, Chair of the Pageant, said in her 14 years that hadn't happened and she was nervous. However, it only took a few hours for the contestants to start rolling in with 10 girls vying for coveted spots.
The Damm Theatre in Osgood was full of family and friends supporting the contestants Sunday evening when the 2023 pageant got underway.
The 64th Miss Ripley County showcasing Ripley County Stars was a night of glitz and glam and so much more as the girls introduced their hometown heroes. They had participated in private interviews earlier in the day. Each girl was shown in their professional wear and then in their evening gowns that shimmered and sparked as they crossed the stage. Many were sequined and some had intricate appliqué' designs – all were stunning. They were also given a random word that they had to describe their feelings about.
More than anything, this year was focused on how to be kind, what kindness meant and the importance of always being kind. The contestants seemed to really have a grasp on the concept with Marissa Eckstein saying that her word, beauty, meant having a kind heart, not only on the outside, but inside. Sophia Sullivan said kindness is extremely important in today's world. Mackenzie Sparks offered that being unique means being different, always being yourself, outgoing and loving, just as God made you.
There were more words of wisdom from the group that seemed to connect to each other and the audience. The pageant didn't have a formal theme, but it was "In a world where you can be anything, be kind."
Look for these beauties at the upcoming Ripley County 4-H Fair and at other events throughout the year as they serve the community through the pageantry.