MMH reports first death related to COVID-19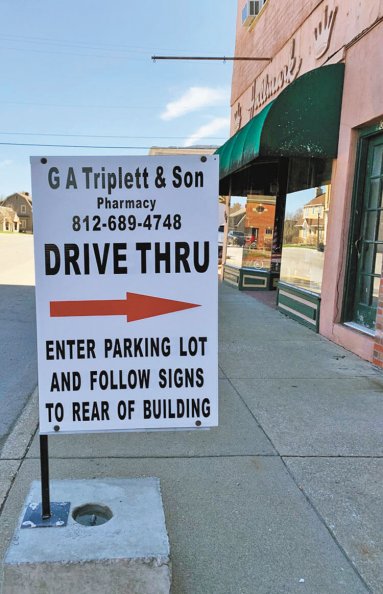 SUBMITTED PHOTO
As the COVID-19 rears its ugly head throughout the world, it continues to take lives and make others extremely sick. This past weekend Margaret Mary Health announced its first death related to the virus, and urged the community to follow state and local orders and stay at home.

Information from MMH noted that an 81-year-old male was their first patient to pass away due to the virus. They noted that he tested positive for the virus and had multiple underlying health issues. The numbers continue to change with over 30 deaths reported in the State of Indiana at the time MMH announced their first death.

"We realize it is difficult news for our community as we face the reality of the COVID-19 outbreak. Our hearts go out to the family of this patient and everyone who is impacted by this illness in our community," said Tim Putnam, CEO of Margaret Mary Health. "This is a sobering reminder of how critical it is to help prevent the spread of this virus and how important it is for all of us to do our part in following the state order to stay home. I urge every member of this community to take this seriously and follow the recommended steps to help protect the most vulnerable – namely the elderly and those with underlying medical conditions."

"As we continue to respond aggressively to this pandemic which has hit our community faster and harder than many other communities around the tri-state, we knew we would eventually have to make this announcement," noted Putnam. "We are deeply saddened by this outcome but want the community to know all of our team mem bers, from clinicians to support staff, are committed to fighting this virus and caring for our patients."

There are multiple residents in Ripley County who have tested positive for the COVID-19, according to information from the Ripley County Health Department. "It is important to note that some of these patients have recovered while others are terminally ill", David J. Welsh, M.D., County Health Officer noted. He gives guidance to the public on how to stay healthy and protect yourself as much as possible during this time.

His first line of defense is "stay home". If you can't do that due to work, getting medical supplies etc., then "wash your hands." It has been said numerous times, but bears repeating.

If you have been contacted that you or an immediate family member has been in direct contact with someone who has tested positive for COVID-19, it is important for your family to remain in self-isolation for 14 days after the date given. During these 14 days, watch for symptoms of COVID-19. Symptoms reported include: cough, aches, sore throat, chills, fatigue, headaches, nausea, or fever. Not all symptoms must be present to have the virus. If a person becomes symptomatic, it is important to remain in self-isolation and contact your primary care physician unless immediate medical attention is needed. If it is a life-threatening emergency, and you contact 911, immediately upon calling, notify the 911 dispatcher of your case. Similarly, in the instance of an essential service required at your place of residence during this quarantine period, notify the service company of your status, such as EMT, fire, police.

Over the weekend, the counties of Ripley, Franklin and Decatur, consistently showed a high concentration of those diagnosed with COVID-19. It is imperative for the next 14-days that everyone practice social distancing, wash your hands frequently, do not attend any type of large gathering, family or otherwise, and only go out for essential travel.

If you are experiencing symptoms and need guidance on when to seek medical care, you can call the MMH COVID-19 Hotline at 812-933-5556. You can also visit their website at mmhealth.org/covid-19.

King's Daughters' Hospital has also established a COVID-19 Hotline at 812-801-8010. This will be available seven days a week between the hours of 8:00 a.m. and 5:00 p.m. For other updates you can access KDH website at www.kdhmadison.org/cvinfo.

It is safe to say if you had plans for an event during this time, it is probably canceled. If it includes a large group of people, it should be canceled, even if it is not.

Churches have adhered to the warning of state and local officials and many website sermons were available Sunday morning. People are urged to just stay home.