Moore is crowned 'King of racing'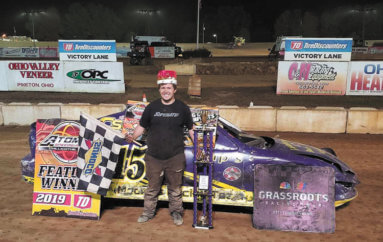 SUBMITTED PHOTO
To say racing is in his blood would be a fair statement about 21-year-old Cordell Moore of Holton. His mother, Cindy Castner, noted that he was "practically born on the racetrack". He's been behind the wheel of the car since he was 13 years old.

Moore has taken his passion all the way to the top, winning the King of Compacts Crown in Waverly, OH, at the Atomic Speedway on October 18, where he led in 34 of the 35 laps. The big purse was $3,000 along with a five-foot trophy, but the win was the best part for Moore. He said at the beginning there were 65 cars that qualified and he started inside the front row. This was the tenth annual event at the Atomic Speedway and each year has produced a different winner, according to Moore.

His girlfriend, Kaitlyn, teased him about wearing the crown, to which he responded, "I'm pretty proud of it." He's competed in the King Race before and placed third in 2017.

The usually quiet, even shy, racecar driver, said when he's on the track he is aggressive and willing to take risks. His smile is as big as his passion for racing as he talked about the big event, and racing in general.

"I especially like it when I race with my dad and it's even better when I win!" he laughed. His dad, Billy Moore, has had his day in racing and winning as well. When Cordell was very young, he was always around his dad and hanging out at the racetrack. "I never remember not doing it," he said about racing. He said he would love to race all the time, but takes time out for his job at Super ATV in Madison, because he "needs to pay the bills".

Moore has had a winning year with his '99 Chevy Cavalier that he fabricated the cage for himself, and tweaked the inner workings. "It's all about the car, skill and what risks you are willing to take," Moore told the Osgood Journal.

After every race, Moore gets a video of it, and spends a lot of time seeing what he could do better. He said his dad provides constructive criticism, which he welcomes, because "he knows his stuff too", when it comes to racing.

To get to the top, Moore has had to race a lot this year. It seemed like he just "couldn't lose" when he raced. But, he doesn't take anything for granted. He said most nights he can be found in the garage doing something with the car, strategizing, and dreaming about the next race. "I love it!" he exclaimed.

He has won the Enduro Race, which he says is complete strategy. This was at the Lawrenceburg Speedway. He won 11 races throughout 2019 and did well in the rest of them. He has 24 total wins in his career.

A graduate of South Ripley High School, Moore says his dream is to be picked up by a big sponsor and get into a purpose built car, even the Indy 500 is not out of his dreams.

His mother said she's seen him go to a race, blow up an engine, come home and rebuild it in one day and be ready for the next night. "He's not a quitter," she noted. Moore agreed he will always love racing and will push on to the next bigger and better race challenge put before him. He said the color of his car is plum crazy purple and it suits him. His dog, Cam, a big huskey with beautiful eyes, goes to races with him and joins the excitement.

"He just eats, sleeps and breathes racing," his mother concluded, to which Moore nodded, already thinking about getting back in the seat when the season begins again.